August 23, 2011
Seed and Bean Extra Dark Chocolate Bar Review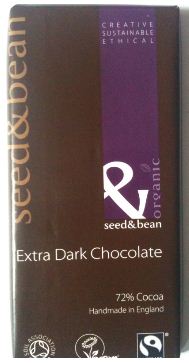 I think taste is immensely personal.  What I like you may hate and what I hate you may love.  I think that dark chocolate is also immensely personal. All too often the beans are over-roasted and there is a bitterness to the chocolate that comes from that, bad beans and a lack of care when balancing the manufacturing process.
No one should suffer with bad dark chocolate.  It should be something that brings a new set of sensations and appreciation for beans to you.  It should be like wine – you can choose your country of origin and favourite manufacturer and get a great experience every time.  Yes growing seasons vary but heck – it's chocolate and we demand the best.
In the case of Seed & Bean what you're getting is both a nice dark chocolate and the knowledge that the sugar, chocolate man other ingredients are organically sourced.  While they don't make their chocolate from bean to bar, they are very involved in the selection process and then the creation of new flavoured chocolate.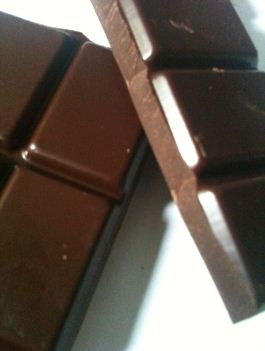 In a twist, this bar has been allowed to stand alone.  It is a Dominican 72% chocolate and it has been moulded into the standard chocolate bar shape.  The paper wrapper actually hides a foil lining and opening it is like sticking your face into a mug of hot chocolate. There is a lovely chocolaty scent that rises up from the wrapper which is uncomplicated and really rich.
With the bar itself when I take a piece I find that the melt is fast and clean.  It is a mostly chocolaty flavour with very little complexity which is no bad thing.  While Im a fan of pure dark chocolate having a depth of flavour and complexity, not everyone wants that.  Some just want quality dark chocolate. Melt is quick and smooth.  There is no grittiness here and it finishes with a chocolate brownie flavour.
As an unflavoured bar I've had worse and while this isn't Soma, it isn't bad either.  A respectable choice for a plain dark bar but don't forget Divine and Green & Blacks also do great things with plain dark chocolate bars.