August 25, 2011
Seed and Bean Mandarin and Ginger Dark Chocolate Bar Review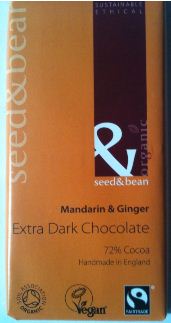 Mandarins are those bright orange balls of joy I always got in the toe of my stocking.  That was always *my* mandarin.  I didn't have to share, I didn't have to give any of it up – it was all mine.  Mandarins have been replaced in my adult life by clementines.  I have to admit I miss the cardboard box with each mandarin wrapped in a piece of green tissue paper but I appreciate the tang of the clementine now over the sweetness of the mandarin.
Ginger is something I've only started getting used to in old age.  I say "old age" and I mean over 30.  I know, I grew up with the "champagne of ginger ales – Canada Dry" but ginger was always yucky.  This was possibly inspired by crystallised, sugared lumps of disgustingness that often try and infiltrate the party season.  Surely you've seen them? They look so yummy and yet… and yet… and yet they are the most disgusting things a child could ever put in their mouths and live to tell the tale.  Perhaps that was deliberate on my parents' part…?
So the evil that used to be crystallised ginger aside, this chocolate has none in it.  Well, not only does it have no crystallised ginger, it has no ginger.  The bar, in fact, has only ginger oil.  Now, which I *think* thins might extend the shelf life as there is no actual organic matter (so to speak) in the bar to go off, it also means you're not getting the whole experience of the root – just what has been extracted.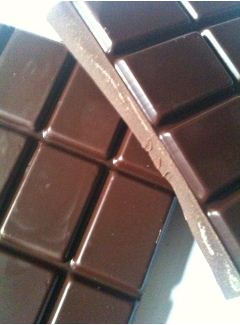 The smell isn't typical Dominican with a fruity edge to the dark almost chalky scent.  None of the ginger or mandarin comes through in the scent.  The initial flavour in the mouth is that top note of mandarin but it is short lived.  There is a strange flavour as a result of using ginger oil and not adding ginger directly to the chocolate.  While I can understand the desire for a less fiery chocolate and something a little less aggressive to appeal to more people, there is no hint of the ginger beyond a vague strange flavour.  The heat I associate with ginger is missing and while the mandarin seems to have improved the actual acidity of the chocolate and brought out more of the dried ripe red fruit, it lacks the bite I was expecting from ginger.