August 26, 2011
Seed and Bean Mint Dark Chocolate Bar Review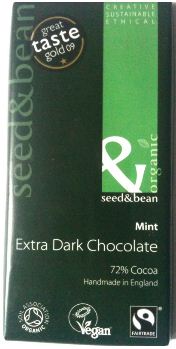 As a winner of a Good Taste Award, I expected a lot of this bar.  Assuming all bars I tried were entered and this alone won a gold, I was curious what kind of solid mint won gold.  As a fan of the green Moroccan mint I discovered not long ago in ganaches, I am a fan of quality mind.  Since Good Food judges are not necessarily experts in everything they are given to judge unlike Academy of Chocolate judges (who are also not experts but at least focused on a single product and are knowledgeable about that product) I expected a popular flavouring and perhaps nothing too complex which is fine.  I don't want to have to stop and savour my chocolate all the time – sometimes I just want to eat a piece.
There is absolutely a distinct mint flavour more reminiscent of a fondant mint. The dark chocolate and mint smell reminds me more of an After Eight than anything else.  There is a dry edge to the scent I can't quite place.  The first taste you get as you place it in your mouth is mint and as the chocolate melts your mouth is flooded with mint.  I can see why this would win a single gold star as it is like a posh After Eight which I am sure has been and will continue to be one of the things everyone remembers about Christmas.  The mint floods your whole mouth and mixes with the chocolate to remove any distinctive flavour you might have been able to taste from the chocolate and replaces it with mint.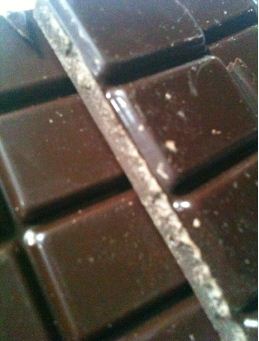 I'm torn with this chocolate.  I can see that in a popularity contest with others this could stand out because of the excellent childhood (and adult) memories of special treats at Christmas.  We can never go back and as we try and recapture what we remember but our palettes refine it takes a more sophisticated chocolate to fill that gap.  However I think the dark chocolate and sea salt bar was by far the best in the range and of all of them is the one I'd buy again.
This is absolutely the type of popular bar everyone will love.