April 1, 2011
Schoggi Belgian Chocolates in San Francisco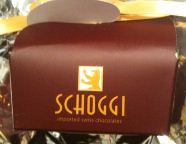 On my way from Web 2.0 I happened upon this chocolate shop with the weird name of Schoggi. Kind of like "soggy" only with a weird accent. I couldn't help by pop in and buy some chocolates. Questions about the chocolates were met with polite answers but as they were imported, not much was known of creation, development and origin.
This shop was laid out in almost a Japanese style with lots of light, soft colours, spaced out and clear colour groupings. Very up-market looking but what was the chocolate like…?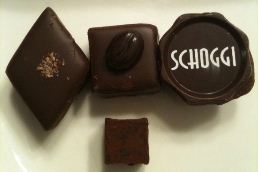 As with any imported chocolate, this stuff has a lot of preservatives. This is going to affect the quality of the chocolate most evident in the ganache squares. These were slightly unpleasant and melted slightly slimy in the mouth. I had to take a smaller than usual sample as I'm not keen on that mouth feel.
The unknown ganache (diamond) was not as unpleasant but it still melts with an artificially smoothed out taste which actually removes the character of the chocolate from the ganache. You are left with an oddly flavoured chocolate ganache and lacklustre coating.
The coffee chocolate was clearly coffee flavoured but here again the ganache tastes slightly slimy and there is a slight grittiness where the sugar is present in crystallised form. This is again not my favourite chocolate and the coffee is extremely strong, the beans seeming almost burnt.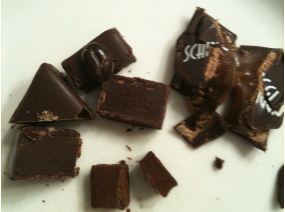 The caramel was a sugar and molasses with extra vanilla flavour which was again so unpleasant that I took a smaller than usual sample. This was not the best example of what can be done with caramel and I am unclear if this is due to transport, age or style.
All in all I'd not go back but this is going to appeal to a particular type of person who enjoys chocolate with that kind of mouth feel and melt. Since everyone is different just because I didn't enjoy it doesn't mean no one else will. I would recommend venturing elsewhere as well and experiencing some of the other chocolate San Francisco has to offer.