July 25, 2012
Rocky Mountain Chocolate Factory Caramel Chocolate Pecan Apple Review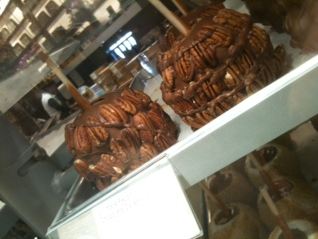 Few things evoke childhood memories like a caramel apple. Surely as this is one of my 5-a-day I can eat one of these every day and get healthy? Right, mom? What's that mom? No way Jose? No way could I not eat one of these a day? Perfect!
As you can see, these are giant apples. I had to have them cut it for me (immense thanks to the staff at RMCF in Square One Mississauga who are awesomeness embodies) as there was no way I'd do it and not make the world's biggest mess and at this size I knew I would have to share. The apples are all part of a display and they are made daily by one of the lovely owners of this particular franchise. I have regrettable yet to meet Bonnie who is the main social media lady and owner but I did meet her amazing staff, a great reflection of her.
I wish I snapped a picture of Bonnie's husband on a ladder dipping apples but I was so fascinated I forgot so you'll have to imagine the scene of a large vat of caramel – one so big you could bathe a child in it (OK… Maybe not quite but, you know, dream on kids…). There is a man covered in whites carefully taking a humble apple on a stick and repeatedly dipping it into the caramel, getting a good thick coating on it right up to the stick. Oh dear deliciousness.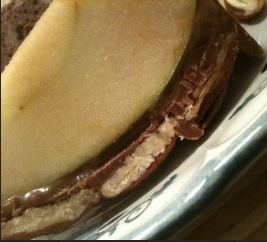 They don't stop there though! No – from there they go on to coat the caramel apple in chocolate and in this case, ass a full, carefully laid out layer of pecans. They cover every possible inch with pecans and add more chocolate for good measure. Holy cow!
That cross section – can you believe it? Look at how white that apple is (I love Granny Smith apples and oh how I miss them in the UK. They and sweet potatoes and corn and so much more just aren't the same 🙁 ). Look at ouw thick that layer of caramel is and can you believe that layer of chocolate? Oh my goodness how can you not want to reach through and take that slice right off the plate?
Delicious. As a confection this is just perfect. The Canadian palate tends to run for a preference for sweet (clearly geared up for maple syrup) and so this is perfect. Of course, chocolate snob that I am I'd likely change the chocolate but why change such a lovely recipe, right? These are gorgeous apple confection perfection – just like the Skor apple I reviewed earlier.
You can buy these from Rocky Mountain Chocolate Factory in Square One. No idea if they make such delights elsewhere..