November 21, 2013
Pump Street Bakery Venezuela 75 Patanemo Dark Chocolate Bean to Bar
Bakery… it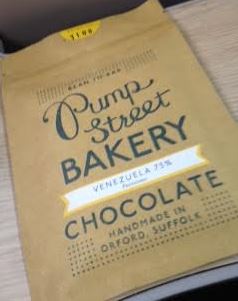 is difficult to get past the word "bakery" in the name of the company that made this chocolate. I mean, bakeries bake stuff, they don't grow wheat, farm it, turn it into flour and then make the bread so why would a bakery make bean to bar chocolate?
They say on their website that having mastered the art of bread, that they wanted to master the art of chocolate. Given the labour-intensive methodology that they use which I am sure Soma will recognise as how they themselves started, I do not understand how they can sell bars for £5.80. They are buying direct off small family farms (as demonstrated by the specific origin on the bars). They then hand sort out all the stones et al and are obsessive about the roast, crack, winnow, refine and conch process. The result is a bar so shiny I could do my makeup in it as you can see below. In fact, you can see me reflected in this bar. Did I do my lashes OK? Seriously, this bar was so shiny the person next to me had to shield their eyes from the reflected sunlight.
And so to the chocolate in the most grammatically incorrect way possibly (possibly)… Oh… goodness… oh… goodness… oh… I.. uhhh… you don't want this chocolate… noooo…. You can just leave it for me to buy – don't worry – I'll save you from it… 😀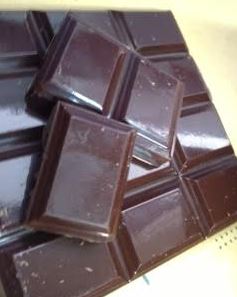 This is amazing. The flavours are intense and from the moment you place it in your mouth, your brain explodes and then melts in the face of the onslaught of the absolutely fantastic flavours. An intense nutty roast which normally I don't like is overlaid with a smattering of fruit – like a fruit and nut where each element is vapourised so it hits your taste buds and EXPLODES. The melt is fast but you are reeling so much from the intense chocolate that it is difficult to think past the word OHMYGODDONTSTOP.
If I had to, at gunpoint, think my way through the flavours, I'd give it a hint of floral at the very start just layered on top of that rich intense chocolate. There is absolutely a nuttiness – maybe cashews – coming through for the whole melt. The chocolate is well roasted but there is just the edge hint of maybe a few that managed to escape the fires of the roaster for slightly longer than its mates but I think it enriches the flavour. I don't get grilled butter or gingerbread but these notes could be present earlier in the bars life and I have met it slightly later (my own fault). I absolutely agree that it is low acidity and it does have a slight bitterness which comes through at the very end as a slight drying to the mouth.
The melt is fast – like Duffy's fast – which says to me that at 75% the reason it is so intense is also because of the ratio of cocoa butter and sugar. It is a 75g bar which is between Willie and Duffy but I love this giant packaging. I am absolutely amazed at the quality of this bar. It is perfectly tempered in brilliantly shiny moulds giving it the gloss I rarely see these days even at Paul A Young's shop. The flavours are fantastic and complex without being overwhelming. I was gifted this bar but ohmygoodness I have to buy more! Absolutely perfectly brilliant and you can BUY THIS CHOCOLATE ONLINE.