March 3, 2010
Prestat Mint Chocolates Box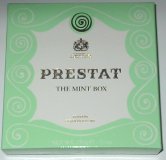 This lovely box of minty chocolate goodness has 4 different types of mint chocolate in it.  There are traditional mint fondant patties, a mint fondant ball topped with a crystallised mint leaf on it, a white chocolate mint chocolate with mint milk chocolate mousse filling and a solid mint chocolate with crispies in it.
This box is stuffed with chocolate and so is a good solid weight.  This also protects the chocolate in it, as does the thickness of the chocolate shell of each chocolate.  The chocolate is a moderate quality and the strong mint flavour really covers up much of the chocolate flavour.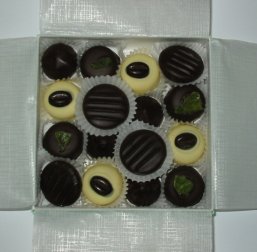 The mint patty has a lovely creamy mint filling.  Perfect and quintessential this was the first chocolate I tried.  The next was the one with the crystallised mint leaf on top.  This also had a creamy fondant centre with a thick chocolate shell.  I then tried the white chocolate with the chocolate coffee bean on top.  I ate the bean first which had a strong coffee flavour and then munched the mint white chocolate with mint milk chocolate centre.  That was lovely.  Finally I had the solid mint chocolate with crisp mint pieces.
I loved the box and had to share it I enjoyed it so much.  I think I should have just kept it to myself but when you find something yummy, you have to share it!