September 11, 2018
Poached Pears with Dark Chocolate Drizzle & Sarah's Zesty Honey with Ginger Recipe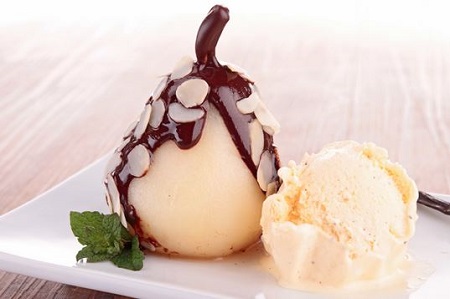 Honey is a fantastic addition to a multitude of dishes, especially desserts! Pears and honey are a match made in heaven, and throw in some dark chocolate and hints of ginger and you certainly have a winner that will impress guests at a dinner party or as a delicious winter warmer.
Ingredients
4 Large Pears
2 Cinnamon Sticks
1 tsp Star Anise or Cloves
300g Dark Chocolate
300g Cream/Milk
1  Tbsp Sarah's Zesty Honey with Ginger
Handful Toasted Almonds
Whipped Cream/Ice Cream to serve
Method
1. Peel and core pears.
2. Pop into a pan or ovenproof dish.
3. Cover with water, a cup of sugar and a stick of cinnamon and a couple of star anise or cloves.
4. Cover with foil and poach on a medium low heat until pears are soft but not falling apart.
5. Gently melt the dark chocolate with equal quantity of cream or milk.
6. Have the Sarah's Zesty Honey with Ginger at room temperature mix into the chocolate.
7. Remove pears from poaching liquid. Drizzle over the Sarah's Zesty Honey with Ginger and warm chocolate sauce.
8. Finish with a dollop of whipped cream or a good vanilla ice cream and, a sprinkle of toasted almonds or hazelnuts.
This is made with and by those bright folks at Sarah's Wonderful Honey. The parent company, Mileeven Fine Foods, was founded in 1988 by Sarah's mum Eilis Gough, after Eilis and her husband Joe, decided to take up a bee keeping course to avoid traffic in busy Dublin city. After a move to Piltown, Co. Kilkenny, their original two hives turned into one hundred hives and Mileeven was born. The company is now run by Eilis and her daughter Sarah, creator of Sarah's Wonderful Honey, and has grown to be one of the leading honey companies in Ireland using select honeys from Ireland and around the world.