August 30, 2018
Make the Weekend Heat Count with Bubbles and Bowls from Island Poke and Freixenet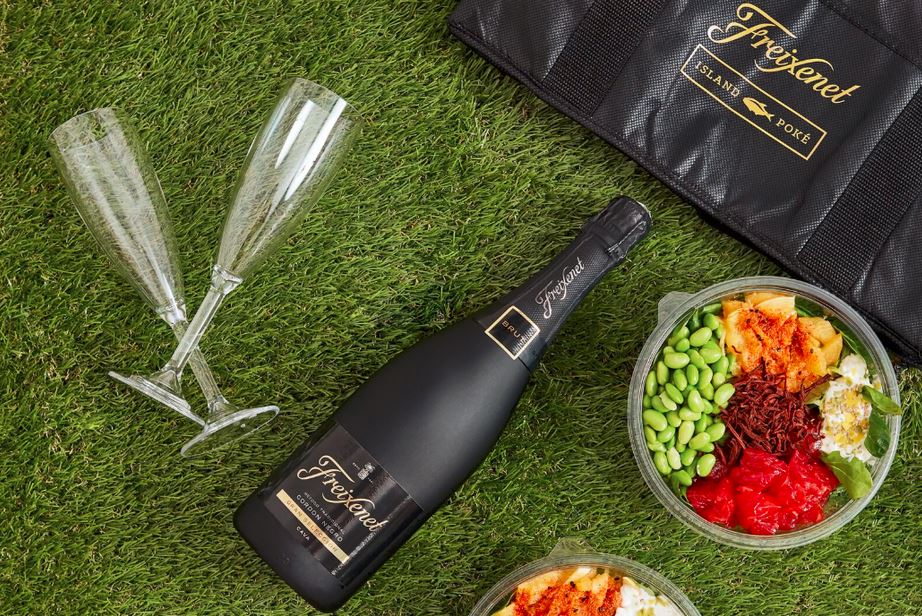 FREE BUBBLES when you buy 2 bowls so really it would be a very good idea to just go, buy the bowls and enjoy your WARM Saturday anywhere relaxing. Walk from the shop up to Regents Park and enjoy!
To celebrate the final days of summer, global sparkling wine brand Freixenet has partnered with Island Poké to update the classic combination of seafood and sparkling wine. Instead of Champagne and oysters, why not try two of 2018's favourite foodie trends – Cava and poké? Complimentary Freixenet Cordon Negro with a purchase of two or more poké bowls available for the first 120 customers only on Saturday 1st September so QUEUE EARLY! It's totally worth it to have biubbles and delicious bowls os healthy food.
What is Poke? It's apparently nothing to do with PokemonGo – the traditional Hawaiian cuisine of diced raw fish and umami-rich toppings recently took off on UK shores as London's hottest food trend which is following on all the other food trends becuse we are a fickle lot, aren't we?
With a flavour profile similar to Champagne, Cava is quickly becoming the go-to drink for those looking to branch out from Prosecco or who don't like bubbles added in tank instead of being the result of in-bottle fermentation. Made using the same traditional techniques as Champagne, the labour intensive process that goes into producing each bottle of Cava ensures a stronger flavour with longer lasting bubbles. Freixenet's Cordon Negro has crisp tasting notes and flavours of apple and pear that creates a delicious combination when married with the citrus and salmon found in poké.
Customers simply need to purchase two or more poké bowls to receive a complimentary bottle of Freixenet Cordon Negro, along with two wine glasses, all kept chilled in an exclusive luxury picnic package (RRP £50.00). But be quick, the exclusive picnic experience is only available to the first 120 customers that visit the Island Poké Great Titchfield St store on Saturday 1st September.
Terms and Conditions
The offer is available on Saturday 1st September, and only open to the first 120 customers at the Great Titchfield St store
Customers must purchase two or more poké bowls to qualify for the package
The 'Cava and Poké Picnic' is available from £15.70
Where do you need to go to get this tasty treat? Pop on over to Island Poke at 1 Great Titchfield St, Fitzrovia, London W1W 8AU or if you'd like to connect with them online, just go to http://islandpoke.co.uk or get to their Instagram: @islandpokeuk