July 5, 2012
Pierre Marcolini Pure Origin Tablets Reviewed
Pierre Marcolini is an extremely talented chocolatier as well as chocolate maker. As the only bean to bar chocolate maker left in Brussels and the only chocolatier I know of who makes the chocolate they use in their ganaches from the bean themselves, it makes more sense as to why I fell in love with Pierre Marcolini before I ever met him. His single origin ganaches were absolutely mind-blowing and now I know why – he was able to control the quality of the chocolate because he was sourcing the very beans directly.
The two bars I've decided to tackle this time are the Cabosse and Fleur de Cacao.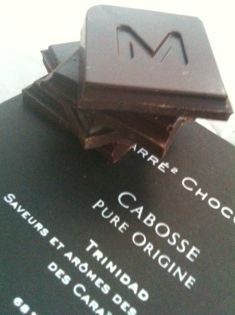 Cabosse – Trinidad – This bar is a bit of a mystery to me. It seems to have a honeyed nutty flavour of unroasted almonds. There is a subtle hint of fruit but this is a fast melting bar so it is difficult to pin down. I'm tasting purple fruit and maybe raspberries. I'm sensing raisins almost but they are fleeting flavours. There is a hint of woody spice but overall a delicious bar with a great melt.
This bar is balanced, inoffensive and at 68% probably going to appeal to a lot of people. It is sweeter than the darker bars on the market. The blend of the Caribbean cacaos has created a balanced smooth flavour. The bars flavours and aromas of fine cocoas of the Caribbean is going to make it something safe and delicious for everyone from Cadbury's lovers to single estate bean to bar lovers.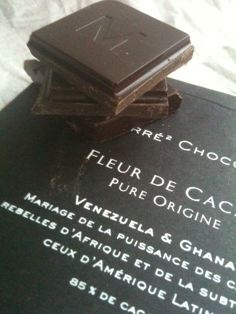 Fleur de Cacao – Venezuela & Ghana – The website says "Characteristics: A blend of powerful rebellious cocoas from Africa and the subtle Latin American beans. A noble creation which plays on complementary tastes. The subtle blend of grands crus from various places gives a feeling of unity and invites you to discover a new chocolate. With its distinctive full flavour, it is the quintessence of chocolate and will not leave you cold."
At 85% this is a strong, intense bar. Immediately I get a burst of yellow fruit with a deep cocoa flavour and a subtle hint of spicyness. There is almost a flavour of alcohol but this is all coming from the beans. Given the mixing of cocoas, this has a surprisingly fast melt and clean finish which I was not expecting. I had eaten a few squares before I realised it.  A really interesting tablet and given the high cocoa content and low amount of sugar it is exactly what I need for my diet! Usually high cocoa content bars are too strong for me but this is shockingly mild and surprisingly flavourful.
These were two surprising bars. Both of them blends, both of them delightful. I'm so used to blended bars being banal, bland, dull flat affairs and yet both of things were zingy and as flavourful and robust as any single origin bar. If you feel intimidated by a single origin bar, well, go with one of these. Wanna show off? An 85% bar makes you look well hard. Want to look sophisticated? A blend of Caribbean beans will certainly give you bragging rights.
You can buy these bars and others from the Pierre Marcolini e-boutique.