July 6, 2012
Freggo – One of Everything Please
I had the wonderful chance to try one of every flavour Freggo had to offer from their extensive menu of sorbets and ice creams. Freggo is a dessert place next to Gaucho on Swallow St just off Regents Street in London. It originally spun off from Gaucho and is still very much a part of it, serving Argentinian delights. From the malbec and berries to the mini cakes, Freggo is positioned as Argentinian, premium and unique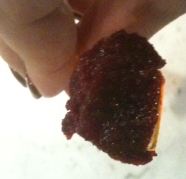 .
I had literally one taste of everything, starting with the sorbets right through to the uber sweet dulche de leche. We started with malbc and berries. I've already tried this before and even this small taste was like an explosion of malbec wine in your mouth. The red fruit is just perfect and when combined with the berries must be the most popular adult sorbet. It is surprising how in your mouth as you take that first taste the flavour of the malbec quickly floods through to each corner. Not what I remembered or expected. This was probably one of the highlights for me.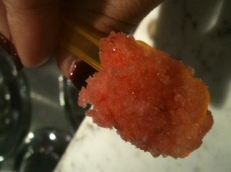 The strawberries sorbet is a light, fresh palette cleanser. It is nicely balanced and quite middle of the road. It stands out in no way, blending into the background. The frut does refresh mildly but this is really something for the less adventurous.  The Lemon was quite the opposite though. Imagine if you will pulping just the juicy bits of the lemon with no pith, peel or anything. Now freeze it.  This is what the lemon sorbet was like. An intense hit of acidic citrus explosion. I have since tried other lemon sorbets and none touch the flavour intensity you get at Freggo. It will knock your sour-loving socks off!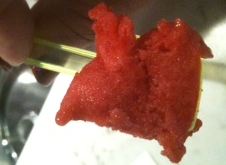 Raspberry comes across as a very adult sorbet. There is a slight acidity which comes through and a flavour intensity missing from the strawberry. This deep, rich red sorbet is intensely flavoured and with bits of raspberry seed you know it isn't just flavour but the fruit that gives it this intensity. After that hit, the Passion fruit sorbet seems almost pedestrian with a combination of the distinct flavour of passion fruit with a hint of, I think, orange. These sorbets are all very distinct and intense and delightful but the ice creams were yet to come.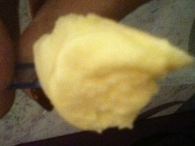 Vanilla can make or break a line of ice cream. Too much artificial flavour and it is a real turn-off. Too little and it tastes of cream and little else, This was an explosion of vanilla which edges on being too much of a good thing. Like you took one bite of a pod and have that intense hit but then it disappeared, leaving that lingering flavour just on the edge of being too much.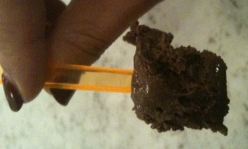 The chocolate ice cream is a darkly deep delicious hit of chocolaty goodness. Of course, you don't really have flavour notes in here so there isn't a deeper hidden subtly but that doesn't stop oit from being extremely chocolaty. This is like chocolate ice cream on steroids. And the chocolate almonds option has raw almonds in it. Yep – raw almonds. This use of raw almonds instead of roasted I think is great because they are going to go squishy anyway so they might as well be au natural. The white chocolate though is a much creamier and sweeter option without the intense richness of the chocolate. Hardly much to write home about.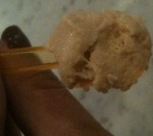 The Irish Cream ice cream is gritty in the mouth almost as though there was coarse wheat in the mix (though without that flavour). I think that made it my least favourite flavour. That mouth feel was such a put off I'd never order it myself despite liking the flavour. I just can't imagine having to cope with more than a mouthful.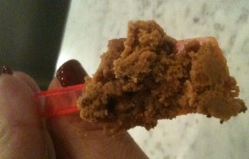 We moved on next to the trio of Dulce de Leche flavours available. We tried the original with its intense flavour of sweet and caramel that reminded me of caramel sauce in sweetened condensed milk. I'm not sure I'd go for a while scoop but this was delightful. The "Temptation" flavour is the original intense Dulce de Leche with a ribbon of caramel sauce. I can see this being a firm favourite of anyone with a sweet tooth in need of a quick sugar fix! The intensity of the flavours was extreme even after eating so many flavours. The final Dulce de Leche was with chocolate chips – a less intense but still delightful flavour which was the most balanced of the trio.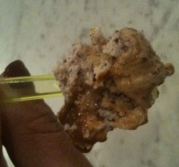 Finally the last two were Banana Split and Berries. As someone who is allergic to bananas I don't usually opt to try them but I made an exception. The Banana Split ice cream was absolutely gorgeous with banana and chocolate and caramel all together in a perfectly balanced package. None of the flavours were too overpowering and even the banana was softened at the edges. Delicious though it was, the last was a dream. The Berries ice cream is what seems to be a compote of berries swirled through that intense vanilla. It both cleansed the palette and coated it in vanilla dreaminess, cut by the berries and calmed by them. A balance between fruit and cream, perhaps this is what they should be serving at Wimbledon.
My visit was an almost overwhelming experience of flavours and textures and I certainly felt like I needed to go for a jog afterwards. All in all Freggo certainly stands out as a premium sorbet and ice cream maker, choosing to be slightly more expensive in order to deliver superior flavour and quality.