July 4, 2012
Grumpy Mule Panama Esmeralda Coffee Review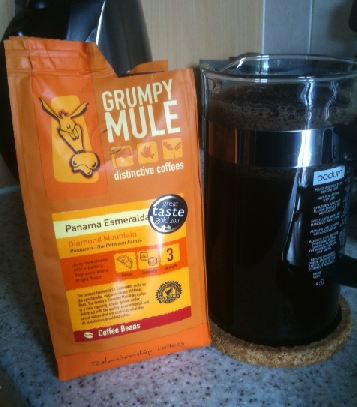 Well, it's morning and it's a Sunday and so you know what that means… I get up early and wander down to make the breakfast and coffee while husband sleeps in then checks his email and rugby boards before being harassed by me who has been up for ages slaving over a hot kettle and blazing hot toaster making breakfast (actually, I don't eat bread…).
Sunday breakfast also means I open the bag of coffee and hand-grind using the grinder I bought for husband some beans for the morning coffee. Clearly I am mad. Or need to start buying pre-ground coffee more often. Whatever – it is time to open a new bag of Grumpy Mule and see what it is like.
Now, as you might know Grumpy Mule coffees are roasted in batches to suit their individual characteristics. The company has taken inspiration from the world of wine to ensure that customers can discover the distinctive character and provenance of each coffee by providing background about the place it was grown and the people who produced it. Most of these coffees aren't just blends or characterless single origin coffees, but coffees from identifiable farms, estates and cooperatives of smallholder farmers.
Ian Balmforth of Grumpy Mule coffee (well actually from Bolling Coffee Ltd, one of the leading independent roasters of high quality, fresh coffees to the food service industry in the UK) says: "Here at Grumpy Mule, we roast and pack our own coffee which is vital to quality, consistency and for developing relationships with coffee growers. Coffee is such a part of our food and drink culture now in the UK and yet there isn't really very much choice available to consumers. I hope that the Grumpy Mule coffees will enable coffee drinkers everywhere to experience this exciting drink how it should be drunk and I am looking forward to hearing their feedback, not to mention each new coffee harvest and the surprises they bring."
So, to the coffee. I am, of course, a bit picky about my coffee and the last Grumpy Mule I tried didn't quite match the flavour profile on the bag. This one says it has juicy sweetness with a buttery fragrance and a bright finish. I'm standing next to some butter. I'm not smelling this buttery fragrance.
What I do get from the coffee is a delightful citrus flavour and a really nice caramel-ly sugary toffee flavour. I find it slightly lighter in flavour than I'm used to and have to admit to adding more on the second pot to strengthen it up and worry about the heat of the water this actually needs however it is rich and delightful.
If you love coffee but find them too bitter or strong, go for this bag. Light, flavourful and with a bit of a kick without being dark and bitter like some coffee can be.