July 3, 2012
Grumpy Mule Tanzania Footprint Coffee Review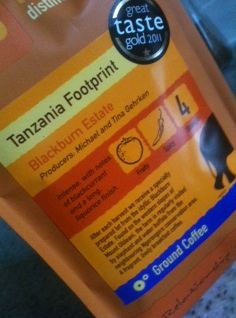 When something has a "Great Taste Gold" of one (bronze), two (silver) or three (gold) stars (don't get me started on the whole Great Taste Awards thing), I often try it to challenge the judging (again, just don't ask) and see whether we are talking genuine award winner or strongly flavoured mediocrity.
Luckily with Grumpy Mule coffee, I know something of its pedigree and so Great Taste award or not, I know I am going to be getting a superior bean and coffee anyway. They say on their site: "Journeying around the tropics in search of new coffees for Bolling Coffee, Ian and Damian would frequently discover fantastic coffees that harboured flavours and aromas that few would have experienced in the UK. Such speciality beans, grown and processed by passionate farmers who cared about the quality of their crop, were often unique in both taste and price, and this made them unsuitable for the broad appeal needed from a coffee for the catering market. And so the idea of Grumpy Mule was born.
The Grumpy Mule roastery is situated in the small Yorkshire town of Meltham, right on the very edge of the Peak District National Park, just a couple of miles from the tourist centre of Holmfirth and the main local town of Huddersfield."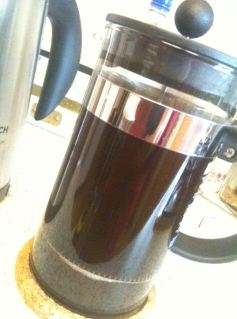 This coffee I found slightly different than advertised. My husband and I only drink brewed coffee on a weekend and as I am on decaf most of the time, only once a weekend. As such we do notice differences in flavour profiles and balances of different tastes native to the bean.
I don't get blackcurrant and a long liquorice finish. I don't really get spiciness. I do get a deeper set of notes than I usually do from coffee with a slight fruit edge. I'm assuming the fruit edge which for me I associate with red fruits is, in fact the purple fruit I should be getting but hey – it is first thing in the morning and perhaps the coffee, since it is pre-ground (that was an accident), is not as flavoursome as freshly ground stuff. There is a bold depth to the flavour but not liquorice finish. I'm not getting much of the spice but eventually pick up some of it.
I'm being slightly picky though – overall this is a delightful, well-roasted, very drinkable coffee that has made a great cup in our Bodum (water never boiling, limited contact with coffee). I can highly recommend it as a great alternative to your regular anything coffee (except maybe Square Mile 😉 )