April 16, 2011
Pierre Marcolini Chocolate Easter Egg Review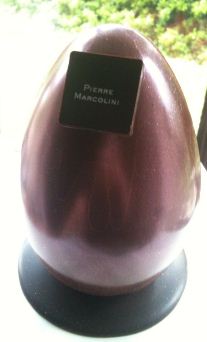 When I was lucky enough to go to the Pierre Marcolini chocolate factory, I was also lucky enough to get one of these eggs. This egg not only smells divine, it is filled with divine chocolate shapes. But I get ahead of myself…
Pierre Marcolini is a bean to bar chocolate manufacturer who has his chocolate factory on the edge of Brussels. I spent a stuffed up weekend with a cold in Brussels where I experienced what can only be called one of the single greatest disappointments in my life. Luckily I discovered chocolate shops such as Alex & Alex or I would have sunk into a great despair, only to be lifted when I finally visited the Pierre Marcolini factory.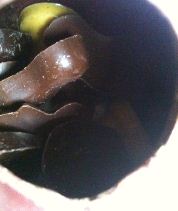 Pierre Marcolini himself enjoys bringing delight and joy to people's lives. He was delighted by my reaction to his visually stunning eggs which I was lucky enough to see an entire rack of in the factory. There were both beautiful and delicate and I can understand why the eggs they made have a high breakage rate when shipped overseas.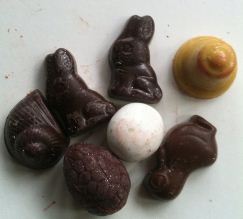 The egg itself is made with a delicious high quality dark chocolate whose scent fills your nostrils as you open the lid. The scent is heady and makes you want to break right in to it but you'll notice that although it seems hollow, it isn't. No, there are lots of little chocolates filled with caramel on the inside (and some are solid) and that just adds to the delight of this egg. A delicious dark chocolate shell, filled with delicious dark and white chocolate chocolates all secured on a dark chocolate base. How could you not want that?
I have to say that this is worth the Eurostar to Brussels for. Ya the tickets aren't cheap and ya it takes time but you'll thank me when you get your hands on one of these beauties and try it for yourself. From the first scent to the last bite, this is a delicious chocolate Easter egg.