September 22, 2011
Pierre Herme Macarons Review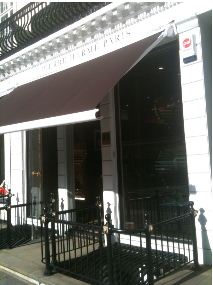 I've experienced Pierre Herme macarons before and I think perhaps that my customer service experience coloured my experience.  In fact, since first trying Pierre Herme and decrying them, I have since admitted I needed to revisit that assertion.  I was given the opportunity to get a second first impression recently at the Belgravia location.
This store is posh and ties in to the theme of linking up with haute couture over chocolate, baking or food of any sort.  One of the highest accolades they have had is that their shop was mistaken for a perfumery!  I can attest to the fact that the shop is very up market and the customers seemed, while I was in there, very enthusiastic and polite – a far, far cry from the ones in Selfridges.  I've started to liken Selfridges to a compact Yorkdale.  My investment guy says you might as well stab your eyes with knitting needles as shop in Yorkdale on a Saturday and I agree. But Pierre Herme's own shop is a world away from there and tempts the shopper in with cool, sleek lines and a chocolate and macaron counter to die for.  As you walk in to the cool interior, you are greeted by someone behind the counter.  The friendly smile leads you in without demanding attention and as you walk further you find yourself surrounded.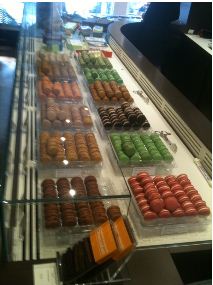 On each side of you there is something – a canister of macaron-inspired teas, a display of chocolates, jams, the macarons themselves, boxes of batons of chocolates and more.  Everything is laid out with precision and with a desire to maintain ratios that are pleasing to the eye.  The colours are soothing with an emphasis on creating a boutique atmosphere within which you could as easily sell jewellery or perfume as maracons.  The experience of poshness does not extend to being snooty.  At no time while I was in the store did I feel looked down upon nor was I ever made to feel as though I was intruding.  It was absolute bliss!
I was gifted with a box of 7 macarons after a long chat with one of the Pierre Herme staff who had heard of my experiences with the Selfridges counter and invited me into the store.  While I admit the experience I had at Selfridges definitely coloured my opinion, I also tried some of the chocolates again and they were absolutely and unquestionably different.  I am unsure what changed but the chocolates were absolutely better and now I would have to say that the chocolates, while perhaps not Soma, are innovative and delicious with the whisky distinctly Laphroaig and the macaron chocolate absolutely delicious.  However this is all about the macarons.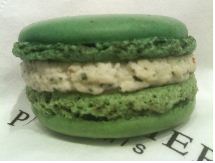 Indulgence – fresh mint and sweet peas – The first one I tried in shop was minted peas which I called mushy peas at first before eating it.  It has a lovely fresh mint flavour and a hint of that green flavour from ripe, fresh peas.  Weird to say but delicious to eat and with little bits of green pea in there you know you are not tasting anything but genuine natural flavours.
Infiniment Jasmin – Jasmine flower and jasmine tea – This was delightful in ways my words will pale next to.  This jasmine was not a floral extravaganza but a delightful hint of jasmine such as you might bet in a Matcha chocolate or a delicate cup of jasmine silver needle tea.  The flavour is ethereal – there and yet fleeting quickly so you take another bite to convince yourself that it was, indeed there.  Delightful to look at with its slight iridescence and magical to taste, I wish I had more.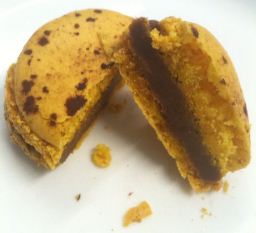 Mogador – chocolate and passion fruit – This macaron was, perhaps my favourite despite being a chocolate fan 🙂 The interplay of passion fruit with the chocolate meant I was always experiencing a different set of flavours.  The combination of the two in a fresh macaron with the crisp shell which is not crunchy and the soft but firm ganache with the addition of the passion fruit puree was delightful and it is unsurprising that this is a firm favourite.
Arabesque – Apricot & Pistachio – delicious. I loved the subtle apricot and I didn't get too much pistachio so this was al all-around winner for me. The slightly tart apricot was always there in the background and occasionally pushed through to the front but was always mingling and melding with the pistachio so I wasn't just tasting one or the other. Not a passive pistachio fan and yet I do like the nut, this was a delightful macaron.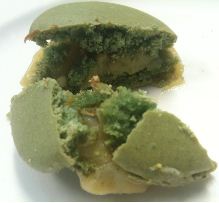 Olive oil & Vanilla – I really didn't get overwhelmed by vanilla but what I did get was a wet filling and crisp shell, seemingly defiant of all other macarons out there with wet everything or ones which are over baked (as though they were deep fried – I mean, do you tell them or stay silent when they are just starting out?).  This was a delightful mess and delicious but very different from the chocolate-based ones. How cool that it wasn't too extreme – loved it!
Reglisse & Violette – Liquorice & violet – Violet side down, slightly scared, I tried this macaron – and was extremely pleasantly surprised! The violet sweetness covers any extreme liquorice flavour and yet there it is – a subtle backdrop to the flavour that comes into its own once the sweetness of the violet has passed and the macaron is a memory, there is that liquorice. It isn't too overpowering and while slightly sweet, it is also darker and delicious.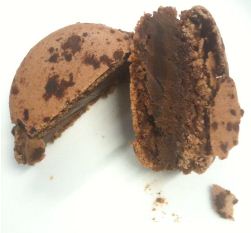 Infiniment Chocolat – chocolate – this was an interesting macaron.  I'm fascinated by the use of porcelana beans which are famed for their extremely mild (and some would say wholly inoffensive) flavour. This is not a bean famed for it's richness and depth but rather the opposite. I'd have to say that the macaron was excellent as a chocolate macaron with the macaron cookie (if you will indulge my inaccurate reference) crisp and soft as any good macaron should be and the ganache firm but not wet, lending a structural stability not in the Arabesque.  A delicious eat but I hate to admit it but in a box of 7 where I have to choose, I'd get 4 Mogador and 3 of this one *shock* *horror*
All in all, this was an experience I hope to repeat.  If you have never tried Pierre Herme then I recommend going to the shop and not Selfridges but if there is no other way for you to access these delightful wheat-free gems, do get to Selfridges and try them for yourself!