September 21, 2011
Melt Chocolates Mixed Chocolates Review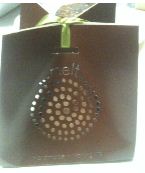 I had the very good fortune of visiting Melt Chocolates recently.  The shop is delightful and while small it is perfectly formed.  All the chocolates are open and out and far to tempting to just take one and just pop it in your mouth.  Everything looks too yummy and with some called bonbons well… I had to get some!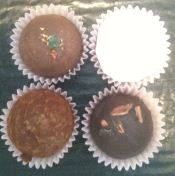 I chose only four of these beauties and the box they came in was darling.  I loved the single one I got in the AoC bag and I love this one just as much.  It perfectly preserved my chocolates so they were just perfect when I got home. Here is my selection:
Pimms – very minty but I could swear somewhere I found cucumber and I really don't think it was my imagination.  Loved this delicious ganache and I could eat them with a jug of Pimms and just relax and let the world drift by as I enjoyed myself.  In fact I like that idea…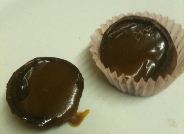 Sea Salt caramel – lovely runny caramel which just oozes forth from the delicious chocolate shell to flood your mouth with the tastiest caramel I've had since Paul A Young,  Delightful and I could eat these by the handful – dangerous!

Coffee Caramel – delicious and strong coffee caramel!  Not only did I like this but it is the first ganache that husband has actually asked me to go buy MORE of! Usually he's passive but this certainly stirred his blood and I'll be buzzing for hours!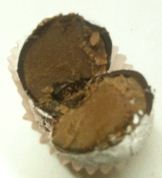 Champagne Truffle – strongly flavoured with champagne but perhaps not as much as Melchior truffles I found this delightful but I have to admit not quite as exciting as the other chocolates.  I did like the powdered sugar and I did like the flavour and the high quality chocolate but I think I've become a Melchior addict (oops…)
All in all it is no wonder so many of these chocolates have won awards.  The awards all over the wall are just testament to the passion and quality that goes in to making these chocolates.  I really enjoyed my trip to Melt and I hope I get to go again soon!