April 28, 2010
Paul Wayne Gregory Popping Caramel Chocolate Pop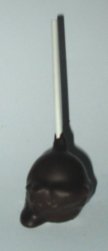 When I met and interviewed Paul Wayne Gregory, I was gifted with a triad of his new popping candy, chocolate and sea salted caramel pops.  These were kindly gifted to me after a discussion about the sea salt caramel in my other box and chatting in general.  I have to admit some trepidation as I thought it might be too much but I was pleasantly surprised.
The layers of high quality chocolate make biting in to this pop a deliciously messy affair exactly as it should be.  Anyone who has ever tried to bite into a Tootsie pop knows how foolish that is.  Allowing the chocolate to warm as you gently nibble brings the chocolate to just the right temperature to gently bite.
The popping candy is the first experience.  I thought I would be put off by it and yet it was delicious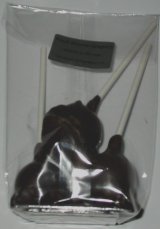 .  It added to the experience by giving an initial kick then fading away.  Next is the salt quickly overwhelmed by caramel to be finished with a touch of salt.  That almost sour flavour balancing the sweet and the beautiful dark chocolate rounding it all out with the last vestiges of the popping candy still thrilling your taste buds.
So… nomnomnom… I suppose my verdict… nomnomnom… is that… *washes sticky hands* I really like it! 🙂