May 22, 2010
Paul A Young Marmite XO Chocolate Bar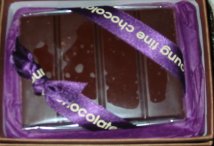 Marmite. It's not the first thing you think of pairing 64% Madagascar dark chocolate with. I can taste the Marmite still lingering on my palette like a single note sounded like a clarion call in the morning.
Marmite and chocolate is something only Paul A Young could do and do it he has. Not just any Marmite mind you – this is a think layer of unadulterated Marmite XO – an extra mature variety of Marmite that was launched following research and development.
No joke. Marmite XO. It's like Twiglets on steroids. And it's in my chocolate. Not just any chocolate – this is a bar of choc with a thin layer of the Marmite stuff from Paul A Young who I want to adopt me so I can work for dad and eat chocolate every day 🙂
Paul Young, one of the UK's best chocolatiers, is well known for his cutting edge creativity. Love it or Hate it, Paul's Marmite truffle is one of his best selling and most written about creations inspiring Paul to create a bar using the new Marmite – Marmite XO.
I don't know what inspired him – perhaps he is among the legions of Marmite lovers. I was on the fence liking Twiglets on occasion – just not a ton at once. Marmite is not something I counted myself as actively disliking.  I was happily on the fence.  This chocolate bar pushed me over the edge though. BLEURGH!
It was the saltyness that hit first, then the sensation of eating a liquid Bovril spread on chocolate. I thought chewing the chocolate would help mingle the saltiness with the chocolate but this just made things worse.  It was like taking lovely chocolate and ruining it by spreading a thin layer of this Marmite XO in between the two slices of chocolate.  I love chocolate, and I love Paul's chocolate but even for me this was a step too far.
The Marmite XO is spread in a thin layer as the filling of this chocolate bar.  It is thin, unadulterated Marlite XO and it is just enough to give you a heavy hit without it being overwhelming.  Unless you don't like Marmite which I have only just realised includes me.

YUCK!
Are you a lover or a hater? Go to the Camden Passage shop today, try the new bar free of charge and twieet about whether you love it or hate it. And if you love it they'll be offering you this exclusive Marmite XO bar for £3.50 instead of £4.50 on the day.
Date: Saturday 22nd May 2010
Address: 33 Camden Passage, Islington, N1 8EA
Opening Times: 11am-6pm
If you drop by mine today I'll be giving the rest of this bar a new home too! *bleck*