March 30, 2015
Paul A Young Easter Collection for 2015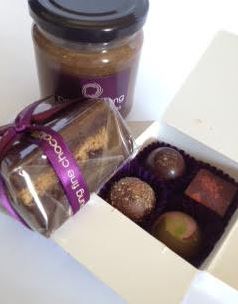 I absolutely love Paul A Young chocolates and before my office relocated I used to walk to his shop frequently to buy salted caramels or a billionaire shortbread or a cookie or, you know, all of the above 😉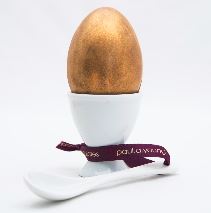 One of my favourite things (obviously) is his salted caramel and at Easter he does the one thing I cannot resist – a salted caramel filled egg in an egg cup with a spoon. The egg is filled up inside with lots of salted caramel and has been made to the same standard as the smaller domed caramels. The egg is the size of a normal egg with caramel inside. Come on – you know you want one!!! It's only £19.95 – come on!
However then things get weird… Master chocolatier Paul A Young is taking the traditional hot cross bun to new levels this Easter. Paul has created three new products using hot cross buns – the Hot Cross Bun Caramel in a Jar, the Hot Cross Bun Chocolate Truffle and the Hot Cross Bun Brownie.
Now, I don't like fruit in my bread. I have no idea why I guess I was traumatised once by thinking an oatmeal raisin cookie was an oatmeal chocolate chip cookie and fruit just never regained my trust. Whatever the reason, hot cross buns and I are not on speaking terms. As such I never seek them out but this year they sought me out…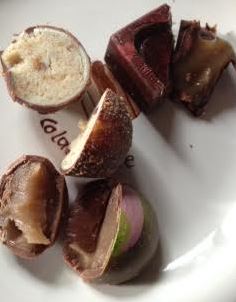 Hot Cross Bun Chocolate Truffle along with rhubarb and pink peppercorn and the honey and rose caramels. Now, I liked the hot cross bun chocolate. You could takte the hot cross bun in it – that is, this is not just spices and raisins but a smooth ganache with actual hot cross bun it it. A really unique way to make these chocolates and probably pretty brave too as I don't think people expect the hot cross bun to be real hot cross buns!
The rhubarb and pink peppercorn caramel is quite different with a really strong rhubarb flavour and the pink peppercorn coming through you almost forget it is a caramel with such unique flavours. The caramel becomes a vehicle for flavour.
With the honey and rose the caramel is absolutely why you're there and tasting the chocolate with the rose a subtle and not at all perfumed flavour.  The caramel is perfectly balanced with the chocolate shell and the rose is there as a hint but not an assault.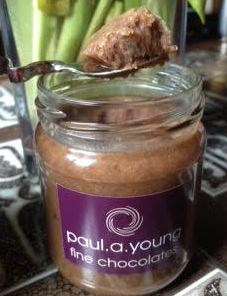 Hot Cross Bun Caramel in a Jar – this was something that I both feared and looked forward to. I love Paul's caramel but the addition of actual hot cross buns was a bit worrying for me – no lover of hot cross buns. You can actually see the raisins are still in large chunks in the caramel and the scent of the hot cross buns comes through really strongly. I think quite possibly this would elevate the level of the supermarket hot cross bun to new heights and it would make any scone into a thing of beauty. I'm not converted to loving hot cross buns yet but this is something extraordinary.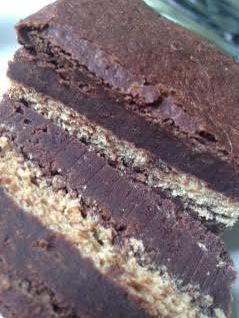 Hot Cross Bun Brownie – this is where I thought I'd have the most trouble. That is a layer of actual hot cross bun in there people. Yep – you are seeing that correctly – there is real hot cross bun that is sandwiched in there. I'm surprised in that I really don't mind it. I don't know what I imagined but it isn't bad at all. I think the bun, though clearly squished, retains a delightfully bready texture without feeling over-baked and the brownie is brilliant. A surprising and unexpected combination I seriously would never have thought of that.
So overall I'm delightfully surprised! I can't believe I like it and I am chuffed beyond words that I do! I have some more spring flavours to try and I'm going to have to give them a go now!