March 29, 2015
Chococo Easter Eggs in Coffee and Cocoa Nibs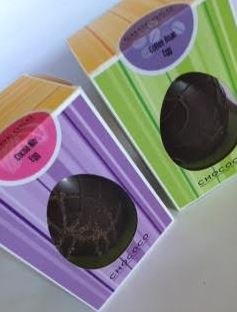 Chococo celebrated its 12th birthday in December 2014 and yetthey are still making all their chocolates by hand, still using fresh ingredients, using even more local ingredients than ever before, still being innovative, giving that personal service to its customers and working on being the best it can be. Not every 12 year old business can say that – especially when it comes to that difficult Easter period or Christmas when it is often easier to outsource but not Chococo.
The team at Chococo Central decided that for 2015 they wanted to go bold, colourful and striped. Thankfully my eggs aren't *too* colourful as coffee and cocoa nibs are both brown 😉 but they are decorated in a rather delightful way. Carefully developed by the award-winning team led by founders, Claire and Andy Burnet, there's something to appeal to everyone. All freshly handmade in Purbeck, Dorset, from fine origin chocolate from Madagascar (dark chocolate 67% cocoa) which is slightly sweeter than the usual 70%, these eggs are both fun and tasty.
Interestingly some vegans don't realise all dark chocolate is vegan. Chocolate may have cocoa moth in some of it so I guess technically there might be a bit of cocoa moth egg which has been roasted into oblivion but all dark chocolate is dairy free and vegan so you can buy these egs if you are vegan without worry.
If you fancy some quality chocolate ORDER NOW as last orders for postal delivery is Monday March 30 but you can also pop down to one of their shops (my local shop is in Winchester so absolutely doable) and you can shop in person at the shop.
But to the chocolate I tried!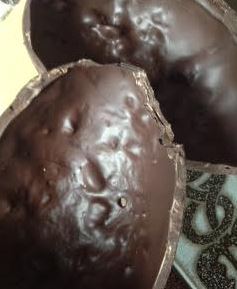 NEW Coffee Bean Egg (£10.00/175g) – One for the caffeine lovers this Easter (like my husband), this egg is made from the Madagascan 67% dark chocolate that Chococo use and comes studded on the *inside* with Colombian dark chocolate covered coffee beans. So don't worry that you can't see the coffee beans on the outside – they are there as I hope you can see in the image. The egg is hand decorated on the outside with dark chocolate swirls which are fun. This egg is suitable for anyone who is dairy intolerant or vegan or discerning 😉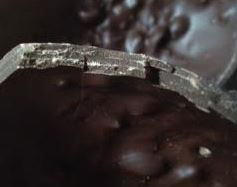 I felt the flavour of the coffee egg was quite distinct and strongly dark next to the nib egg. You wouldn't know it was the same chocolate in fact with the coffee egg studded with coffee beyond the big beans you can see. The dark chocolate just tastes darker plus you get the lovely dark strong coffee flavour coming through and the triple layering of the egg just makes it more special. Note to be aware of – it was so think it was hard to break!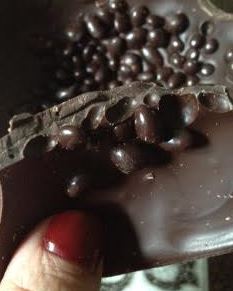 NEW Cocoa Nib Egg (£10.00/175g) – Another dark chocolate egg from Chococo (I chose them both BTW so the dark was my option), using Madagascan 67% chocolate, the egg comes studded on the inside with Colombian dark chocolate covered, roasted cocoa nibs which you can see all clustered in one area. On the outside it comes hand decorated with dark chocolate swirls and crushed, roasted cocoa nibs but not too many. This egg is suitable for anyone who is dairy intolerant or vegan or who enjoys quality chocolate 😀
The chocolate after the coffee egg actually tastes sweet as the Madagascar chocolate and nibs has no bitterness and the nibs just enhance the delicious chocolate flavour. This double-layered thick egg is dangerously moreish – as in I could eat another one!
I do love Chococo and wish I lived closer to the Winchester shop. They are a fab small company who are dedicated to making things as ethically and well as possible. They pour their heart into each product and for that reason alone they are fab but the choice of ethical Madagascan chocolate is just an absolute added bonus!