April 13, 2015
Announcing the Winners of the 2015 Academy of Chocolate Awards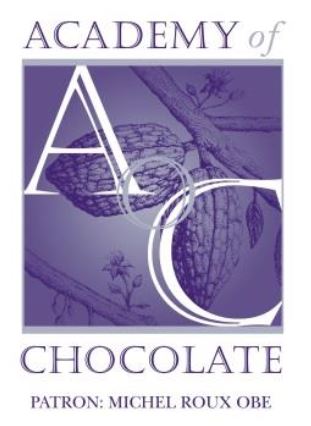 The Academy of Chocolate Awards, now taking place for the 7th time, is a highly anticipated event in the international chocolate calendar.
This year's Awards received a record number of entries with over 500 products. As a result more judges were involved in the jury panel and the judging, which took place at Westminster Kingsway College, was extended to five days. Chaired by globally respected wine expert Charles Metcalfe, judges included chocolate experts and buyers, pastry chefs, food professionals and food journalists.
In the first clutch of Gold Awards, the Swedish chocolate maker, Åkesson's Organic, won gold with its 100% Criollo Cocoa Madagascar in the Best Dark Chocolate Bean-to-Bar over 80%, as well as taking a Gold in the Best Dark Chocolate Bean-to-Bar under 80% category for its 75% Criollo Cocoa Madagascar. Also achieving Gold in the 'under 80%' Category were American chocolate makers Amano Artisan Chocolate for Ocumare 70% Dark Chocolate; and, last year's shared Golden Bean winner, Bar au Chocolat for Dominican Republic 70%.
Åkesson's Organic truly impressed the judges this year and continued to thrive in the Best Flavoured Dark Chocolate Bar category, winning Gold for 75% Trinitario cocoa & 'Wild' Voatsiperify pepper and for its 75% Trinitario coca & Pink pepper. Joining Åkesson's Organic in winning a Gold award in the Best Flavoured Milk Chocolate Bar Category with its 45% Milk chocolate with Fleur de sel & Coconut blossom sugar, Hotel Chocolat received a Gold accolade for its Borough Market Blend Gin Bar (65%) and Pump Street Bakery Chocolate triumphed with a Gold accolade for its Rye, Crumb, Milk & Sea Salt 60%.
The new departure this year requiring 'bean to bar' entries to be submitted in plain unidentified 5g moulds proved a highly popular move towards increased transparency.
Rococo ruled the roost in the Best Filled Chocolate – Plain category, taking home three Gold awards for its Single Origin Peru Ganache, Single Origin Dominican Republic Ganache and Single Origin Chuao Ganache. The brilliant Ben Le Prevost was awarded a Gold award in the Best Filled Chocolate – Fruit category for its Raspberry, Lime & Chili, alongside the family-owned Berries Luxury Pudding Makers & Confectioners which also won Gold for its Raspberry & Rose Jelly Heart.
Newcomer to the Awards, Chika Watanabe received a Gold award for her Tajine Apricot in the Best Filled Chocolate – Spices and Herbs category. Demarquette Fine Chocolates also achieved a Gold accolade for its handcrafted Imperial China chocolate. In the Best Filled Chocolate – Alcohol category Chococo gained a Gold accolade for its Totally Twisted Nose and Hotel Chocolat was awarded Gold for its Single Malt Cardhu Whisky.
The Best Filled Chocolate – Caramel category was awash with outstanding opponents with the following walking away with a Gold accolade: Benjamin Chocolatier for its Palm Blossom Caramel; Berries Luxury Pudding Makers & Confectioners for Blackcurrant Caramel Dome; Chika Watanabe for Yuzu Mint Caramel; Coworth Park Hotel for Muscavodo & Ginger Caramel; Rococo Chocolates for Mandarin & Tonka Bean Caramel; Selfridges for Hebridean Honey and Sea Salted Caramel; and last, but by no means least, Winchester Cocoa Company for Ginger and Muscovado Caramel.
Yauatcha won the judges appeal with a Gold award for its Raspberry Rose chocolate in the Best Filled Chocolate – Other category. In the Best Unflavoured Drinking Chocolate category Kokoa Collection Hot Chocolate gained a Gold award for its Dark Haiti 75% Hot Chocolate. Hotel Chocolat tantalised the judges' taste buds, winning a Gold accolade for its Salted Caramel hot chocolate in the Best Flavoured Drinking Chocolate category.
The packaging categories were certainly a welcome feast for the eyes. The judges were dazzled by the beautiful collection of Best Packaging – Bars entries, with Golds going to Beschle for its Matcha Bar –matching the green of the chocolate, Chocolate NAÏVE for Mulate Collection and Dick Taylor Craft Chocolate for Chocolate Bar Envelope. In the Best Packaging – Boxes category we received beautiful Gold award-winning entries from Dick Taylor Craft Chocolate for its Drinking Chocolate Bag, Du Jour Chocolate LTDA for Du Jour Multipurpose Cocoa Pod and Rozsavolgyi Csokolade for charming Hot Chocolate Family Packaging.
Omissions this year from regular contenders included Amedei, Paul a Young and William Curley, all of whom were invited to 'swap places' this year to join the judging teams. There still was a significant increase in the number of entries in the bean to bar category, indicating that more chocolate makers are entering the Awards. Entries from outside the UK equaled the number of UK entries, indicating the international recognition of the Awards.
With many thanks Westminster Kingsway College, where the judging took place with the professional help of Gary Hunter and Jesse Courtis and the team of the hospitality lecturers and students.
Judges included food writers and bloggers: Xanthe Clay, Andrew Baker, Jennifer Earle, Lee McCoy, Zoe Perrett, Spencer Hyman, Jill Norman, Henrietta Green, Aggie McKenzie, Jenny Linford, Joanna Wood, Janie Suthering; Buyers from Fortnum & Mason, Harrods, Selfridges, Marks & Spencer; Chocolatiers/Patissiers: Cecilia Tessieri, Iain Burnett, Amelia Rope, Claire Clark MBE, James Petrie and Steven James from the University of West London; and AoC members: Kate Johns, Christopher Reeves and John Adams.
The Grand Jury comprised: Charles Metcalfe (Chairman); Sarah Jane Evans; Fiona Gately; Judith Lewis; Marie-Pierre Moine; Sara Jayne Stanes; Janie Suthering; Paul a Young.
The Awards are managed by Silvija Davidson and Philippa Denlegh Maxwell.
The Academy of Chocolate Awards will be hosted by Nigel Barden at a party at Fortnum & Mason on Thursday 23rd April when the coveted winner of the Golden Bean will also be announced.