November 16, 2010
Paul A Young Chateau Civrac Chocolate Wine Grapes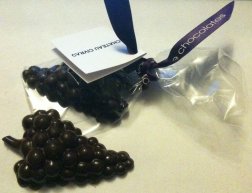 Cornish wine producer, Mark Hellyar, and Chocolatier Paul A.Young have collaborated to produce a unique chocolate made using Chateau Civrac 2006 which is a 'new claret'.   It is visually stunning.  The grapes are perfectly formed and the bottom is flat.  I used a two pound coin to show the sheer size of this as it retails at £3.95 but it is HUGE and well worth it.
Chateau Civrac, which is produced in the Bordeaux appellation of Côtes de Bourg, is a fruity, rich and long lasting 'new claret'.  The wine is a fusion of the quality of the old world, but with the approachability of the new.  It's a classic blend of Cabernet Sauvignon, Merlot and Malbec but made in a contemporary and honest style.
The scent of the chocolate is full and rich and delicious.  This huge chocolate is a beautiful delicious piece of mastery in design and taste.  I started at the end of the bunch of grapes, as any self-respecting wanna-be pampered princess would – as if being fed the grapes.  The intense chocolate hit as I bit in made me think it would be more of a dark chocolate but it was only a 64%.
The fruitiness didn't come through as much on the first bite as the second. The claret reaches up and baps your tastebuds with a foam bat as it punches through the chocolate flavour to introduce itself forcefully to your mouth.  As the chocolate then rises up and attempts to balance off that extreme fruitiness, your mouth just cuts off all other brain function as the flavours just travel around your mouth and excite various areas of your mouth.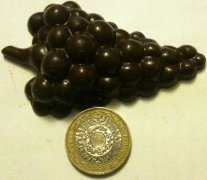 Paul comments, "Usually I would say wine and chocolate do not make a very accommodating match but after tasting Chateau Civrac I found a 64% Madagascan Grand Cru dark chocolate which complements the wine, allowing its fruity finish to really shine through. The result is an intensely mouth-watering chocolate with a very clean finish. I always strive to remain true to the flavour of my ingredients and use just Chateau Civrac, chocolate and a touch of organic unrefined sugar to create this chocolate"
This chocolate is the most delicious, gorgeous thing I have had the pleasure of eating for awhile.  It is absolutely excellent and I can't imagine what else he will do to top this.  Get this as a special gift for someone and they will love you forever (or at least really appreciate it!)