April 9, 2013
New Malteesers Teasers Bar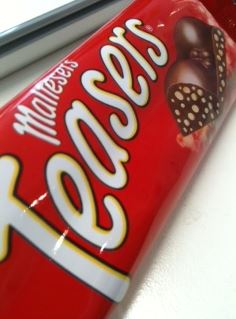 At the holidays, when you get those big tubs of miniatures, I used to leave the "Teasers" behind. I was all 'if it isn't a real Malteeser, why would I want it?' and so it languished with the Bounty and other assorted less-favourites. Then one fateful day, I needed a pick-me-up and as I absolutely cannot stand coconut, Teasers it was.
That day changed my chocolate life – well, my sugary Christmas chocolate from a tin chocolate life that is. I found I liked Teasers and it soon became the one I chose first (well, after the Mars bar I have to admit and I am partial to a Twix not too…). I enjoyed Teasers and lamented when the last miniature was consumed,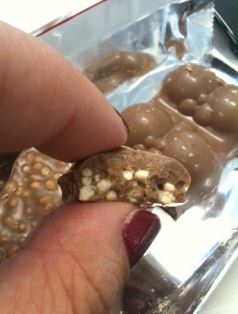 Clearly the people at Mars Inc heard the cries from the many who had fallen in love with Teasers and decided to launch a whole bar! Yep – now it isn't just for the holidays – it's for always 🙂
Little half-Malteeser shapes with additional bubble decoration on one side, thick inclusions of that lovely crunchy centre on the other. You can see just how much crunchy lovely goodness you get in each bite. Not only that but I got sent TWO!
Now, I think I'm still more partial to a Twix Fino when I'm looking for a bit of a sugar fix but this bar disappeared quickly from my desk. I like the cute bubble decorations, I really like the inclusions… If you're a fan of the kind of sweet milk chocolate, this is a nice quick supermarket treat and they are part of the Roundtable on Sustainable Palm Oil so support them over companies who aren't.