April 19, 2012
My Visit to Gorvett and Stone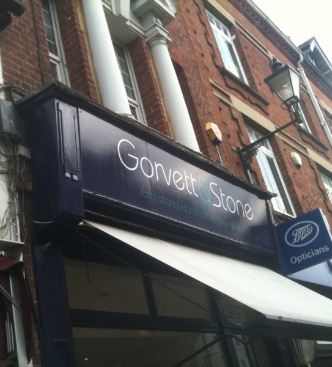 It was a beautiful sunny day when I drove down to Henley on Thames to visit the award-winning Gorvett and Stone shop. They have recently moved to new premesis across the street from the old shop.  I don't know why but I imagined a small dark shop, with the inside painted indigo and turquoise packed to the gills with chocolates. I found something slightly different…
I visited mere days after they had sold out of almost everything for Easter. In fact, they had also only just opened after having a new floor laid.  As such there was a lot of work happening around me, a lot of chocolate being made, cinder toffee and so much going on but Matt & Elinor still made time for me. It was amazing.
The kitchen is huge and when I arrived, I came just at the perfect time to watch the exploding flogs being made. They have a massive kitchen and they supply some exclusive names including Fortnum & Mason. Their flavours like Eaton Mess and their house truffles are extremely popular and the people of Henley beat a steady path to their door for chocolates, tea and hot chocolate.
They sell their own fresh chocolates as well as Valrhona, Michael Cluziel and other chocolate bars. They have Turkish delight and hand-made marshmallows.  The fresh cream in their truffles and ganaches comes straight from a local dairy called Lacey's Family Farm. The dairy actually produce the cream to a precise percentage of "creaminess" so that they can make consistently awesome chocolates.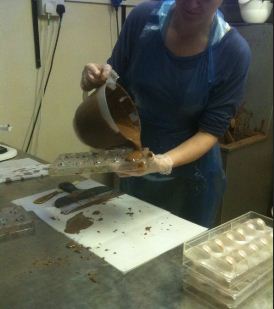 They have a series of tempering machines and are passionate about making great chocolates. They are constantly innovating and thinking about what to do next. They have a lot of chocolates already quite unique and I got to try a number of them…
The milk chocolate truffle with sea salt is made with Jivara milk chocolate with a pinch of sea salt. This bar is really interesting and has a fairly sweet flavour but rich and flavourful. I think I could have eaten a box but next I tried the delightful mint with a lovely crystallised mint leaf on top. Delicious and green and lovely – my favourite kind of mint. Then I had the house truffle. This is a solid but airy, bubbly but crumbly truffle. A different chocolate truffle with a great flavour the house was delightful but the Grand Marnier truffle had that alcohol kick with a bit of citrus.
The exploding frogs cooled and out of their moulds, they were piled high ready for packaging. I am now the proud owner of an exploding frog which I shall review later as well as a whole bag of salted caramels – YUM!