November 18, 2013
Montezumas Open Sesame Peeling Amorous Charlies Luck Bars Reviewed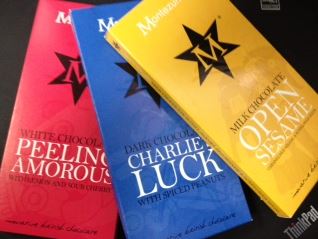 I do enjoy the occasional Montezuma's chocolate. Quite apart from the name, they do try very hard to combine their 'fairly traded' ethical standpoint with great tasting chocolate. It's a fun treat and the British bars they brought out for the Olympics were absolutely devoured by the office, despite their sadly melted state. My postman sometimes values me getting a parcel over not leaving chocolate in full sun on my front porch.
Knowing how much the office loves Montezuma (and I did enjoy their milk chocolate with salted peanut combination very much) I was thrilled to be given these three bars at a press event recently. It had been awhile since I had heard from Montezuma Chocolate and it was lovely to get in touch with them again.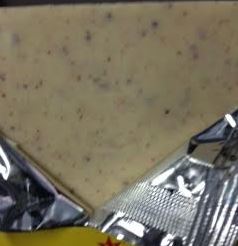 Peeling Amorous – this bar is a white chocolate with lemon and sour cherry bar. It uses lemon oil for the lemon taste and has 1% of weight as sour cherries which have been freeze dried. I didn't taste any of the lemon or sour cherries. I think I am possibly so sensitive to vanilla that because that was all I could taste, the lemon got lost in the background and then the sour cherries also struggled to shine through. I resorted to the office on this one as I struggled so much.
Open Sesame – this is a milk chocolate bar with caramelised sesame and sunflower seeds. I really enjoyed the satisfying crunch of the caramelised seeds in this bar. I absolutely got the sesame seeds as they have a distinct flavour but I struggled with the sunflower's more delicate flavour, Of course, sunflower oil is favoured *because* it doesn't flavour things so it is unsurprising that I struggled. Sesame is such a strong flavour that it simply dominates but when combined with the milk chocolate, it makes a delightful balance of flavours in the mouth. Really Enjoyed this bar!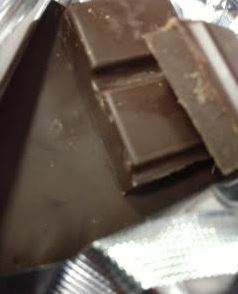 Charlie's Luck – this is a dark chocolate bar with spiced peanuts. It says they use ginger and chilli and that it isn't a 'cannon-load' of chilli and yet from the moment you put the piece in your mouth, it starts to heat up (and I think my nose is now running). This isn't as strong as some other chilli chocolates but it certainly is not restrained. There are few peanuts in the mix to break things up – which is good as they have started to make my bar bloom as they release their fragrant oil. Sad but true delicious nuts have so much delightful oil they actually make a bar look bloomed. Still it was an interesting dark chocolate bar with a spicy kick.
Overall I think these are going to be crowd-pleasers. There are a lot of people who have developed a taste for chilli in dark chocolate, the milk chocolate is my favourite and the white chocolate lovers out there are probably going to get more from that bar than I did 😉 Don't be shy – pop on over to one of their shops or BUY IT ONLINE