October 21, 2013
The Lanesborough Afternoon Tea Reviewed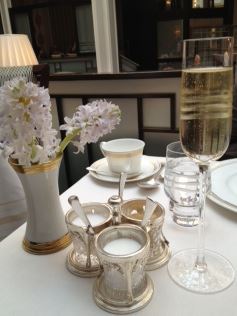 I was invited to experience the Lanesborough afternoon tea as part of Chocolate Week events. They were working with Valrhona to create some delightful desserts. A number were created but the core tea remained the familiar delightful base. In fact, it is important that the tea stays true to its roots because it has won one of the most important awards for afternoon tea four years in a row. Winner of The UK Tea Council Award of Excellence 2009, 2010, 2011 and 2012, The Lanesborough Hotel Afternoon Tea is served daily at the hotel's restaurant so no need to wait for the weekend. The name of the restaurant is Apsleys and that is where I discovered cinnamon butter on toasted tea cakes.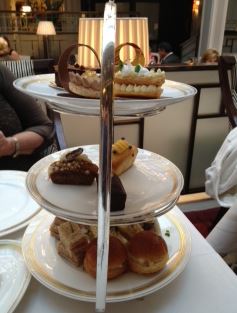 Served with all the trimmings, The Lanesborough's multi-award winning Afternoon Tea includes freshly baked scones which are refreshed if you want more, thick clotted cream in a cute little dish and home-made fruit preserves also in little cute dishes. In fact I got lemon curd which I love and never get in an afternoon tea! They have a tea sommelier who can help to guide anyone (even me) with a personal tea selection and discuss varieties of tea that are on offer. If you eat all your sandwiches, they'll bring more. If you eat all your cakes they'll bring more. Apparently sometimes people do eat three or four servings. BRAVE as I was full after less than one!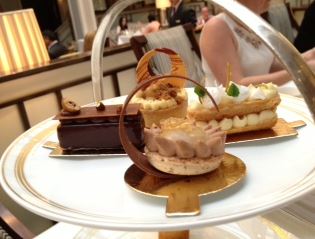 The various cakes – GOODNESS! I couldn't eat them all partly because some had banana but also partly because I was full by the time I ate through everything else including carrot, beetroot and avocado sandwiches. The delights made with Valrhona were: Nyangbo chocolate mousse with praline cremeux and a hazelnut crunch; Jivara Irish coffee macaroon which was DELICIOUS; Ivoire coconut and lime caroline which I liked; Dulcey-banana tartlet with spiced cremeux which I couldn't try; chocolate and ginger cake which was a bit dry and not too gingery along with other cakes.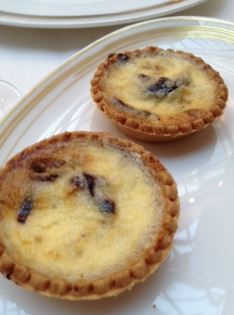 Overall the tea was delightful. I was intimidated at first with the cutlery but just remember – work from the outside in. The tart with stilton and caramelised onion was warm and a bit of a sharp contrast but it was lovely and I used the small fork. The spoon with the divot was for the strawberries and cream I found out. Also the service is not too stuffy if a bit more formal than the Park Inn according to my mother who did both.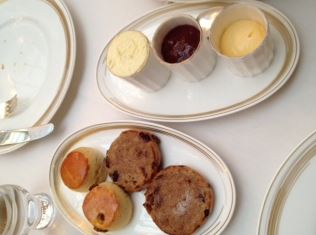 On comparison, the rare Park Inn Chocolate Week Afternoon Tea piped the Lanesborough to the post with relaxed service within posh surroundings and delicious combinations but since it won't happen again, the Lanesborough wins  for a posh afternoon tea you can get even after Chocolate Week 😉