November 19, 2013
Kopke Tawny Port Through the Years Reviewed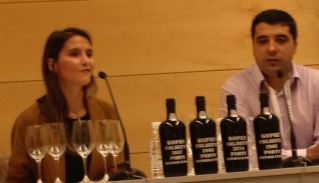 I had the pleasure at the recent DWCC to try five different years of Kopke tawny port. I know it shouldn't be but tawny port is my favourite kind of port because of the level of sweetness as well as the flavour profile. Unlike ruby port for me, tawny port has more dried red and purple fruit notes, more raisin notes, and is sweeter. Whereas ruby port sometimes even seems to me to have tannins and oaky-ness, tawny ports that I have tried just have beautiful sweet silky smoothness.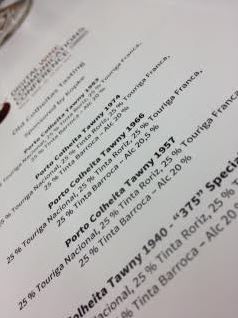 The Kopke folk explained to us about how port is made. About Porto and Douro and how hot one side of the river is, how cool the other and how they make special brandy which has to be certified for port production before being added to the port. We met the man behind the ports and he spoke to us about the way he approaches port making and we learned that it was the 375 anniversary of Kopke as a port producer.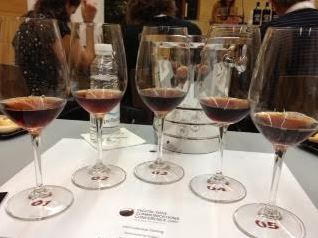 We then were given 5 different ports to try and I managed to wrangle a taste of a 6th later on. The 5 ports were 1983, 1974, 1966, 1957, and 1940. The extra one I got to try was the 1978 but I'll get to that one later. This flight really illustrated well how age changes port but not always in the same way. While the 1983 was really sweet, so was the 1957. Where the 1940 (their special 375 anniversary edition) was smooth and sweet but still had complex flavours, the 1966 was spicy. The 1974 and 1957 both lacked that woody herby spicy edge and were closer to the dried purple fruit/figs.
Interestingly, the port was bottled around 1 month before it was given to us. So it was sitting and maturing in cask and not in bottle I understood from 1974 to now (2013). Now, we are talking about someone from Portugal in Spain answering a question in English so I may have misunderstood or gotten the wrong impression somewhere along the line.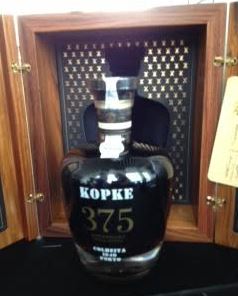 The 1940 bottle, in its wooden box, being the oldest available vintage port from them, was also the most special. Smooth, not too easy to drink but still like velvet on your palate. The spice here is muted, as are the dried fruits. They combine together to create a soft harmonious song that speaks not only of the fruit but of the journey of aging and how age and wisdom often softens rough edges. The flavours sing through softly, like a whispering choir, no one note of flavour shouting but still, if you concentrate there are distinct notes. Probably my second favourite. At €700 a bottle, from them, I'm not sure I'll be gifting one to myself since my favourite is available much cheaper.
I always say in chocolate reviews that most people like sweet. This is the thing about snobbery in chocolate (and apparently according to someone I spoke to at the conference, possibly also wine) is that you are told you have to like dark chocolate or you are somehow less. If you look at sales of bars – including high end bars – you'll find that milk often outsells dark because most people prefer sweet. Quite unfairly people perceive dark as being bitter and it is probably the one thing I find myself trying to convince people otherwise of (I rely on Porcelana to do the work for me 😉 ). I prefer Duffy's dark milk Ocumare to his plain dark bar because I freely admit that like most of the population I prefer sweet sometimes.  Apparently when you leave the wine reviewing world your palate reverts back to sweet and all those years spend dismissing sweet wines fade in memory or something. Perhaps it is the same with chocolate. Well, just because something is sweet does not make it bad and in the case of port I found one both sweet and absolutely gorgeous.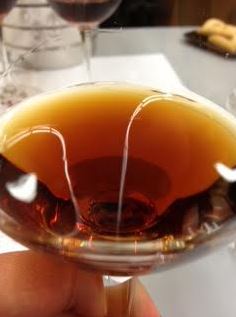 My favourite port was one I got to taste on the Kopke stand and not at the formal tasting. The 1978 tawny port from Kopke was super sweet with lots of raisin notes, figgy pudding, Christmas pudding but no spices. It was like dried macerated fruit soaked in a sweetened brandy and steeped in a soft, gentle tawny port base. It was absolutely glorious and I'm absolutely in love with it but at £80 I have to be careful how in love with it I am. While I feel it is absolutely worth it, it is also difficult to find. This is not the stuff of airport duty free or supermarket shelves sadly.
Of all the ports, I'd say the 1978 is absolutely worth it if from reading this blog you feel you have the same tastes as me. Then I'd go for (in order of preference) 1983, 1940 (375 anniversary bottle), 1966 and then if you prefer spicy notes and less fruit I'd recommend the 1957. The 1974 which I think I have seen in the duty free is my least favourite (sorry Portugal – nothing against the revolution, it just wasn't Kopke's best year).