June 1, 2012
Montezumas GIANT Monkey Bars
So I get this press release that says the following:
Can you Adam and Eve it?  Montezuma's new 'Monkey Bars' are bigger than an iPad!
These half-kilo slabs of great British chocolate take their name from Cockney rhyming slang for '500' and measure an impressive 10″ by 6″ (25.5cm x 15.5cm, if you really want the metric).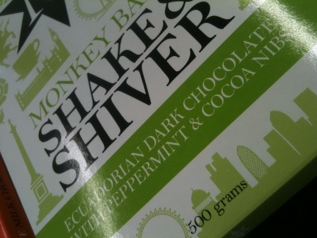 Inspired by a very special year for Britain, when we celebrate both the Royal Jubilee and the Olympics, unwrapping a 500g Monkey Bar at a gathering of family or friends will have their 'apple pies' popping out!
While huge, Monkey Bars do break up into handy 33g blocks, so are easily shared – whether it's for Easter, Father's Day, as an after-dinner treat or even while watching a certain East End sitcom!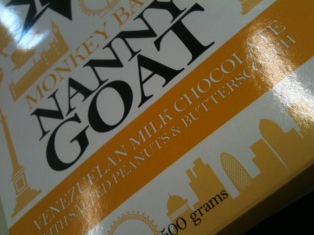 There are 5 innovative flavours in all – each decorated with a skyline of London and other iconic symbols of Great Britain, including a traditional phone box, bulldog, Welsh dragon and a Scottish lion:
'Airs & Graces' (meaning 'Races' as in Epsom Races – which is Ecuadorian Dark chocolate with Nougat Pieces); 'Nanny Goat' ('Boat' – Venezuelan Milk Chocolate with Salted Peanuts & Butterscotch); 'Daisy Roots' ('Boots' – Ecuadorian Dark chocolate with Cherry & Almond Slices); 'Adam & Eve' ('Believe' – Venezuelan Milk Chocolate with Orange & Hazelnuts) and 'Shake & Shiver' ('River', as in The Thames – Ecuadorian Dark Chocolate with Peppermint & Cocoa Nibs).   RRP is £13.99.
The bars are available from montezumas.co.uk and its 5 shops (Brighton, Chichester, Winchester, Kingston-upon-Thames and Spitalfields in London), as well as John Lewis, Whole Foods Market and all good independent fine food stores nationwide.
Monkey Bars are part of Montezuma's 'Great British' range, which also includes 6 traditional pudding-flavoured bars and truffles – including Spotted Dick, Treacle Tart and Apple Crumble.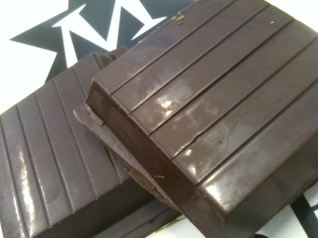 So of course I had to try them. How could I not? First I tried the 'Shake & Shiver' which is a surprisingly easy to eat dark chocolate and mint. I have to admit I was unsure what to expect with such a large bar at that price point. I'm always somewhat cynical but it turns out this was really edible like an After Eight without the fondant. Interesting flavour and massively huge!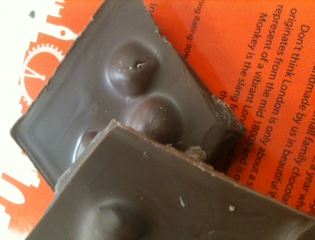 I moved on to 'Adam and Eve' which is milk chocolate with orange and hazelnuts which was delicious. I'm not a passionate orange lover but I don't mind it and here it is not too aggressive and that subtle flavour with the delicious roasted hazelnuts made this a very moreish bar. I had them at work and this was just about completely devoured but even my large office found the size of these bars impressively difficult to conquer!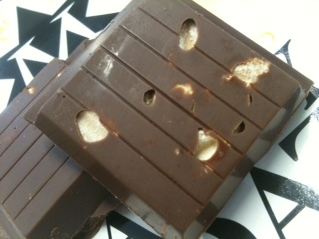 Lastly I tried what I think is my favourite 'Nanny Goat'. This is a milk chocolate bar with salted peanuts and butterscotch. Crunchy, sweet but that sweetness is cut by the salt this was the first to be decimated by the office. This was a delicious bar – the milk chocolate was sweet but cut by the salt and peanuts, the butterscotch was also sweet but also cut slightly and the peanuts were delicious and crunchy. This was a brilliant bar and I have also had it recommended to me by people who didn't know I had one. This bar I know was bought after being tried it was just so delicious and it is MASSIVE!
It doesn't matter what the occasion is, if you want to impress, the 'Nanny Goat' bar is sweet but still yummy for someone with a sweet tooth. Of course, it has peanuts so be careful but yum!