March 30, 2012
Luckys London Humpty Dumpty Easter Eggs Review
I absolutely love Lucky's brownies and their eggs are something I've wanted to try since last year but alas work took me away from London. I'm pleased that not only was I in town this year but I was also sent four of these lovelies – one of each kind! These eggs are unique – they have a layer of chocolate, a filling and another layer of chocolate making up the shell – so they are hollow! I know – kinda weird – but give them a chance…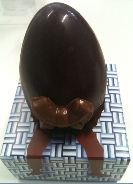 Lord Dark Toffius – 60% cocoa dark chocolate with intense dulce de leche filled shells. I'm into sweet right now and I am LOVING the sweetness of this egg. But there's no salt to cut this caramel and it is creamy so if you're going to go for this, be prepared for suh-weet!
Sir Namon Chai – 40% cocoa milk chocolate with delicious spiced ganache filled shells. I'm torn on this one – whereas the Lord Dark Toffius was sweet but it was cut with the dark chocolate, here it is sweetness and spice. The flavours come through clearly but it is sweet again. Maybe I need to eat some crisps…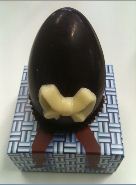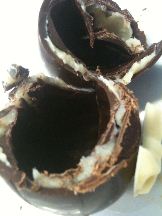 Monsieur Coco Noir – 60% cocoa dark chocolate with delectable coconut ganache filled shells. I'm not a huge fan of coconut but I know some of my readers are and so I can say the light amount of coconut is still a bit much for me but it will be a delightful light but still satisfying layer for coconut fans.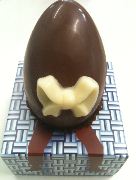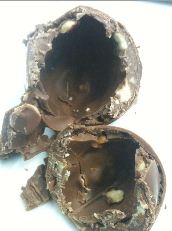 Duke Of Nutting Hazel – 40% cocoa milk chocolate with luscious praline & hazelnuts filled shells. I enjoyed this much more than I thought as a non-praline fan. I'm more of a ganache gal but this was nice with large chunks of hazelnut added in the layer of praline is delightful.
Overall, Lucky's has created some amazing eggs for Easter with delicious flavours and enough of a range that everyone is going to love it!