August 23, 2012
Jean Paul Hevin Aria Dark Chocolate Bar Review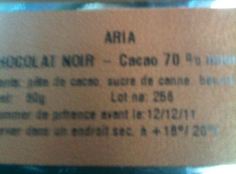 I'm always cynical when it comes to French chocolatiers. Most are not bean to bar and have simply had Valrhona make something for them. According to the pamphlet, this chocolate in 100% pure Madagascan criollo which is a great country got red fruit in chocolate tasting notes and the bean is highly prized for the robustness of taste.
When I went to the shop in Paris, I was there for Salon and my poor, 20-years-not-used French was rusty and I was having trouble communicating with the shop staff. I fell back on to countries I knew I liked the beans from and went with that and got the gentleman to help. I know they say French staff are stuffy but this guy was so wonderfully patient and helpful it made it less painful. The shop itself is very swishy and kind of modern. The chocolate is all sealed in silver packages which I wonder if they are like Soma's to let the chocolate breathe and age. Still wicked cool packaging!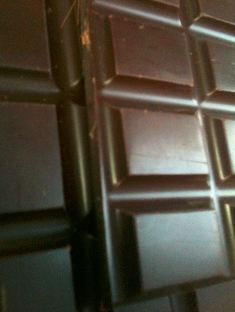 As I opened the sticky sealed bars silver wrapper, the most glorious scent enveloped me. It made me wonder if it was mere silver paper or a special substance created to help the bar breathe but not pick up scents from other bars (as my Akesson seems to have). It is difficult to describe a sensation but to have that strong chocolate with red fruit berries and some tropical notes rise out of the wrapper as I opened it made promises I wasn't sure if the taste could keep.
The mouth feel is pure satin. I cannot believe that he got the particle size small enough and added just the right amount of cocoa butter to achieve this glorious master piece. The flavour is robust of red berries, almost no acidity at all (which I do kind of miss) and a hint of woody spice though there is also a bit of unroasted hazelnut coming through for me. It is not at all bitter and the lingering mouth feel is not drying or bitter at all. A second piece straight after the first reveals more nuts,  more deep chocolaty notes and some lush raisins that make it akin to drinking some port with my chocolate. Holy cow this is awesome.
This as a masterpiece in my mouth. I bought this in Paris and now I want to go back and buy more bars. This reminds me of the masterfulness Duffy exhibits in some of his bars where they melt like satin in the mouth and coat the inside of your mouth in a lush blanket of gorgeous chocolate. I want more and I have to wait. I can't wait – I need an excuse to go back to Paris and buy more of this NOW 🙂