October 6, 2017
Howard Middleton's Gluten Free Cacaoccino Wafer Cake
I had the most amazing preview of Cake & Bake which opens today at the Excel center by getting to Bake with a Legend and in my case it was the charming Howard Middleton.
Bake With A Legend was launched in Autumn 2016 and gives you the opportunity to have unforgettable classes with some of the nations most loved bakers who have adorned our television screens. You know we all love a bit of #GBBO action. Their events take place at high quality private venues, allowing you the unique chance to meet, learn new skills and bake alongside your favourite star (and of course take the necessary selfie).
And now to the main star of this blog post – Howard's Cacaoccino Wafer Cake! Normally I wouldn't post something with as many steps as this because frankly I'm bloody lazy but low and behold even I made this and had fun and so thanks to Howard I know it isn't really that hard 🙂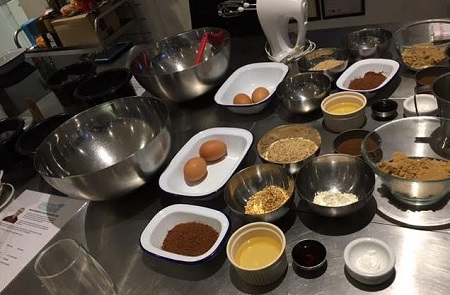 Step One – The Cake
Equipment
6inch Cake Tins (2)
Mixing Bowl
Electric Whisk
Metal Spoon
Ingredients
30g cacao powder
15g instant espresso powder
1 or 2 tsp coffee liqueur
about 50ml boiling water
120g light brown muscovado sugar
2 large eggs
100ml light olive oil
1/2 tsp gluten-free baking powder
75g ground hazelnuts
2 tbsp chestnut flour
25g roasted chopped hazelnuts
1. Preheat the oven to 180oC/160oC fan/gas 4. To make the cake, line 2 x 6in cake tins with baking parchment.
2. Mix the cacao powder with the espresso powder and add the coffee extract (or liqueur) and enough boiling water to make a thin paste.
3. Put the sugar, olive oil and eggs into a large mixing bowl and, using an electric hand-held mixer, whisk for a few minutes until you have a thick golden cream that looks like a pale, smooth custard.
4. Add the cacao paste, keep whisking, then add the ground and chopped nuts, chestnut flour and baking powder and mix well.
5. Pour the batter into the lined cake tins. Bake for about 25 minutes until just set on top and a skewer comes out fairly clean. Cool for a few minutes in the tins, then lift out and transfer to a wire rack to cool.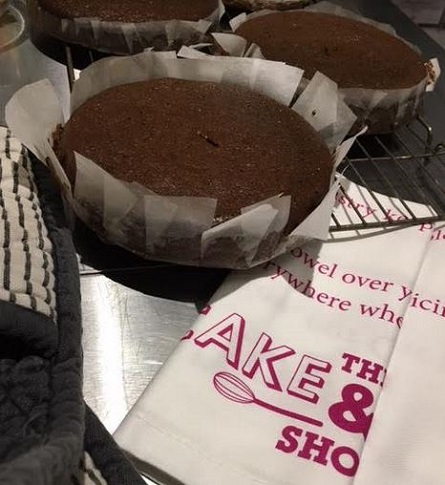 Step Two – The Wafers
Equipment
Baking Parchment
Baking Sheet
Mixing Bowl
Electric Whisk
Ingredients
3tbsp liquid pasteurised egg white (Two Chicks)
35g caster sugar
15g unsalted butter, melted
25g ground hazelnuts
15g cornflour
1. To make the wafers cut out 2 x 15.5cm (6in) circles of baking parchment (or use pre-cut non-stick cake liners) and put them on a baking sheet.
2. Whisk the egg white in a large mixing bowl for a few seconds, then add the sugar and whisk until fairly thick and creamy. Fold in the ground hazelnuts, cornflour and melted butter.
3. Spread the mixture over the parchment circles and bake for 15 to 20 minutes until light golden brown. Leave the wafers to cool and firm up on a wire rack.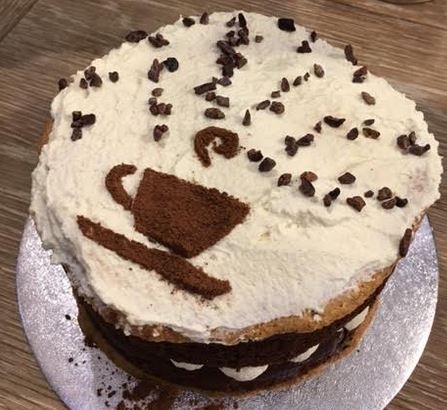 Step Three – Composition
Equipment
Mixing Bowl
Electric Whisk
Stencil
Ingredients
200ml double cream
1 tsp vanilla extract or vanilla bean paste
coffee liqueur
cacao powder
cacao nibs
1. To assemble the cake, whip the cream with the vanilla and a liqueur or maple syrup if using.
2. Place a wafer on the serving plate, pipe a blob of whipped cream and put a cake on top. Fill with more whipped cream and put the other cake on top. Top with another blob of cream and the other wafer.
3. Use a stencil and sift cacao powder on top, then decorate with peaks of whipped cream and cacao nibs or coffee beans.