October 22, 2010
House of Dorchester Double Chocolate with Marshmallow Slabs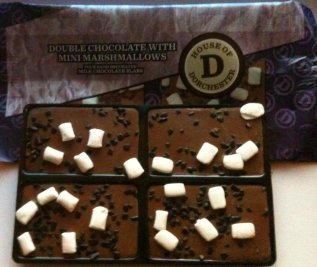 There are four slabs of 10g each in each of these packages.  I got them at the Speciality Food Show but given what another chocolate fan said about the quality I've been a bit reluctant to try it but I shouldn't have been.
It is a bit weird and the chocolate is extremely sweet but that's what a lot of people want in a chocolate bar.  The marshmallow is my favourite kind – small and dry and chewy.  Favourite for hot chocolate that is! I prefer fluffier ones to roast over an open fire.
The chocolate is typical of mass market and has a creamy taste.  It is what you would expect with the addition of sprinkles and marshmallows.  An interesting chocolate but not one I might choose for myself.