December 21, 2014
Hotel Chocolat Wins Christmas
Luxury cocoa grower and chocolatier Hotel Chocolat has a dazzling 2014 Christmas collection. I know, I've eaten most of it *burp*
You all know if you follow me on Twitter that I love Hotel Chocolat. I am always on the lookout for their milk chocolate salted caramel almonds. They are *always* sold out – possibly because I buy so many 😉
From their signature truffles to their much-loved Christmas Sleekster, there is a sled-load of chocolate wonderment for the chocolate lover. I was especially enamoured of the snowflakes – a stunningly beautiful creation by HC which they will probably never do again because of the sheer complexity of the mould so I recommend buying them this year!
All of their gifts can be delivered in a luxury ribbon-tied gift box with a personalised card, straight to friends and family. I've received one myself and I can attest to how absolutely wonderfully special getting one of those packages is. I highly recommend just shopping online for Christmas gifts and then getting them delivered. Pressure:OFF!
Here is a selection of our favourite Christmas gifts. They are SELLING OUT FAST so grab them while you can – don't be like me and mourn the lack of milk chocolate salted caramel almonds CONSTANTLY: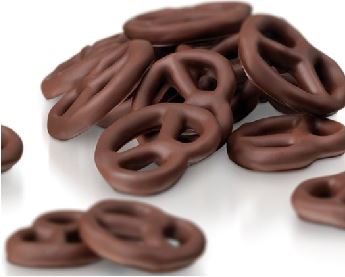 Mini Chocolate Pretzels – Warning: these mini pretzels are dangerously addictive. One bite through the meltingly smooth milk chocolate, through to the flaky crunch of salted pretzels, and you'll be hooked. They've packed 75 pretzels into this funky keepsake tin – sadly no refill packs *yet* but you never know. Of course I rely on husband to refill 😉 £10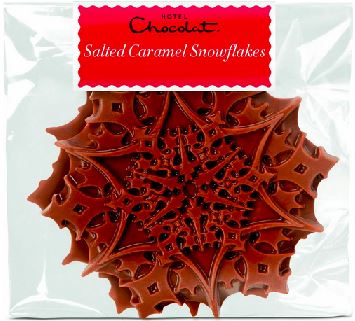 Salted Caramel Snowflake – Even if we're not lucky enough to see a white Christmas this year, Hotel Chocolat have got you covered (there's a white chocolate version too!) Two stunning snowflakes cast in moreish caramel chocolate, enhanced with a dash of sea salt. Perfect as a pretty gift for a friend or as a festive treat for you! £4.50 (either white or caramel milk)
The Christmas Wreath – A snow-stopping festive centrepiece with 49 filled chocolates and one mini cookie wreath. Featuring nutty pralines, smooth ganaches and a few cheeky boozy recipes, all encased in milk, dark or white chocolate. DAMNIT – Sold out! NOOOO!!!!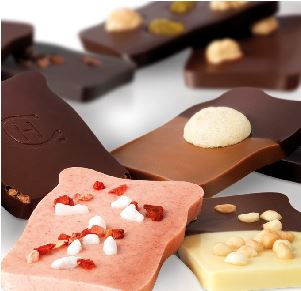 The Nano Chocolate Slab Gallery – HC says: "The Nano Slab Gallery contains an exciting exhibition of work from our 'Munch Period', created in our chosen medium: chocolate. Enjoy 9 classic Nano Slabs in all our grades, from Dark Fruit and Nut to White Cookie Crème. A fabulous gift, perfect for sharing." £10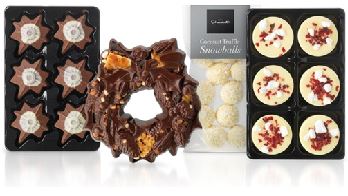 The Christmas Goody Bag – A goody bag containing a host of festive treats and it looks prewrapped! But, there's a window so either a lot of ribbon or extra wrapping 😉 It includes a Cookie Wreath studded with florentines and biscuits; 6 Christmas Eton Mess truffles; 6 caramel supernovas, filled with runny caramel; and a bag of coconut snowballs – milk chocolate truffles covered in desiccated coconut (not my favs sadly). £18
The Truffle Tree – Gather everyone round the Truffle Tree for a spectacular festive feast! Three layers of milk chocolate blended with crispy feuilletine and hazelnut paste, and two layers of salted caramel milk chocolate, each adorned with delicious bauble truffles in dark, milk and white chocolate. DAMNIT – Sold out!

The Christmas Sleekster Selection – A festive collection of 28 of Hotel Chocolat's finest Christmas chocolates, with something for everyone in elegant milks, darks and whites. There are the mulled wine truffles (now sold out but since they are still tasting in store, grab one 😉 ) as well as other delicious flavours. I think that with both chocolate ganache and praline there will be something for everyone. Hot tip: Use the menu and grab your favs early on 😉 £22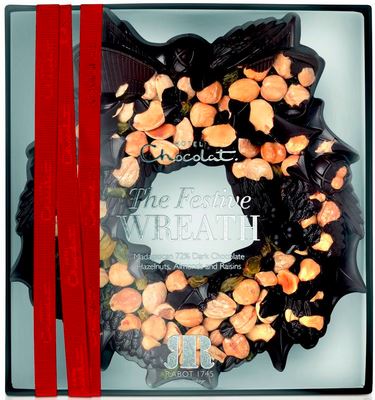 The Rabot 1745 Wreaths – A superb centrepiece of Madagascan 72% dark chocolate in a perfect seasonal crunch of premium Piedmont hazelnuts (getting rare!), Marcona almonds and succulent South African raisins *nomnomnom* These look pretty darn sexy too besides converting me to fruit and nut chocolate. Large 450g, alcohol-free & vegan suitable £22
A Bag of Christmas Stars – A set of 10 elegant five-pointed stars: six filled with 40% milk chocolate snowflakes, and four filled with 70% dark chocolate snowflakes. Perfect for tree and table alike. Alcohol-free and perfect to hide from everyone and just eat yourself. Put the empty boxes on the tree and blame the kids/dog/neighbour. DAMNIT – Sold out!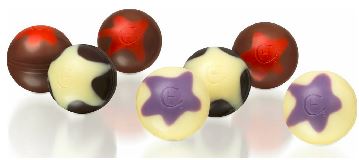 Chocolate Baubles – I so wouldn't recommend hanging these baubles on your tree – they're much too delicious for that plus they'd melt if they were near heat! You'll find seven chocolate truffles in each pack, crafted from milk, white and dark chocolate, and festively decorated to look like mini Christmas baubles. I might have eaten my body weight in them at the press launch… >_< £7
12 Portly Penguins – These deliciously plump penguins seem to be in quite the Christmas spirit… They may have indulged slightly more than they intended to, but they need it to keep them warm over the winter! Besides – it's harder to kidnap a portly penguin 😉 They're made from tasty 50% milk chocolate, decorated with portly white chocolate tummies. DAMNIT – Sold out! *sobs*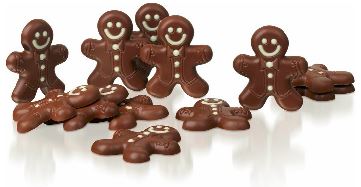 A Dozen Gingerbread Men – Gingerbread men are a classic treat at Christmas, but there's one problem with them – there is simply not enough chocolate on them! Well, unless you secretly create a layer of chocolate inside *idea*. HC solved that problem by casting theirs out of mellow 40% milk, delicately spiced with cinnamon, nutmeg and ginger – WOW! And you get 12 of them! £7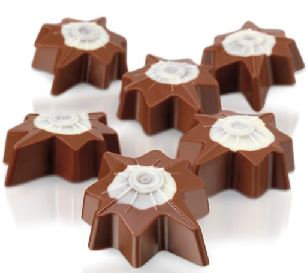 Caramel Supernovas Selector – 6 40% milk chocolate stars filled with oozingly soft caramel. I am absolutely addicted to these sweet, oozingly delicious caramels. They are one of my favourite treats! £7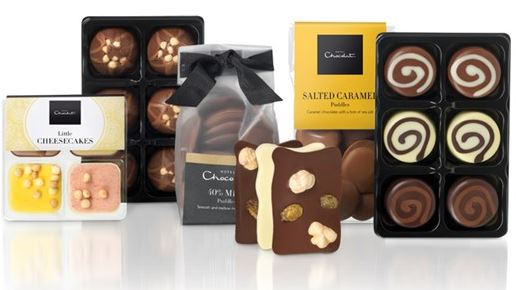 The Everything Collection – The Everything Collection is a little selection of Hotel Chocolat all-star chocolates which means there will be something for everyone including: Billionaire's Shortbread truffles; Salted Caramel Puddles; Dizzy Pralines; Little Cheesecakes in Lemon, Strawberry, Caramel and Rhubarb & Ginger; 40% Milk Puddles; and a two nano slabs in: 50% Milk Fruit & Nut and High-Cocoa White. £25
So there you have it! A nummy, chocolaty Christmas. Just remember to order before Dec 23 and also you can get the chocolate delivered SAME DAY if you are in certain areas of LDN so HC have you covered!