April 1, 2012
Hotel Chocolat Keepsake Easter Egg Tin Review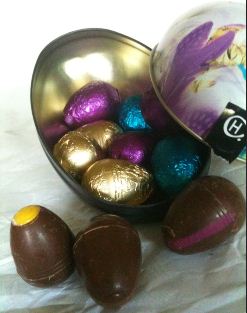 Hotel Chocolat is constantly coming out with new ideas for Easter. Last year my favourite new product was the Nibblatron egg – well, specifically the robots. Luckily they continued producing those robots and this year they made a giant one! In addition to a giant chocolate robot, they also made these eggs.
The keepsake tin is the perfect thing for a young man or lady to give to their mother for Easter I think. What mom wouldn't love to get a bunch of champagne eggs, caramel eggs and praline eggs? On top of that you can keep the tin after all the eggs are gone and keep other treasures in it.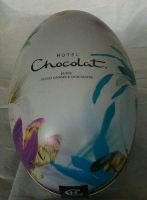 Now, I love these salted caramel eggs more than anything but the champagne ones I just ate were pretty darn good. After those sweet ones, I have to admit I only ate half of the praline one before I cracked open another of the sea salted eggs… then I dipped into the egg and chips but that review is for later 😉
Visit a local Hotel Chocolat shop and grab a few of these for gifts.