October 14, 2010
Hotel Chocolat Christmas Cracker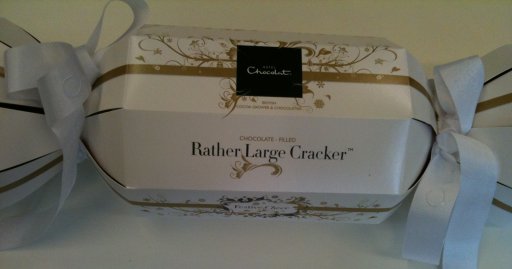 All of the sudden Christmas is everywhere and this blog, it seems, is no exception.  I had the exceptional pleasure of reviewing some of the wonderful Hotel Chocolat Christmas range and you can see if was a real eye-opener for me.  I swear, I never thought I'd like fruit & nut anything.
The giant Christmas cracker from Hotel Chocolat is less adventurous than the wreath but no less yummy.  There are gold hats, chocolates for everyone, and some of the worst jokes I have ever had the misfortune of reading in my LIFE.  I think that alone is worth it.  Let me tell you, at a party or dinner after a few glasses of wine, people are going to be peeing themselves laughing because they are that bad.  Sober, they are strange and somewhat disturbing.
The chocolates are lovely.  There are pairs of chocolates and lots of them so there will be chocolates for everyone.  Since this is aimed at 12 there are just that many hats, pairs of chocolates and awful jokes but hey – more or less is still a party!  Since we tried these in the office, everyone got in the spirit and had a hat on and dutifully told a bad joke.
Given this was tried in an office, I can say it works quite well. Everyone lived the fact there was a real cracker in it (though hard to let off), the hats and jokes were fun and the chocolate was appreciated by all because of the wide selection. Got a party you are going to this holiday season and want a gift to bring that will really stand out? This is totally it!