April 2, 2012
Hotel Chocolat Champagne Truffle Easter Egg Review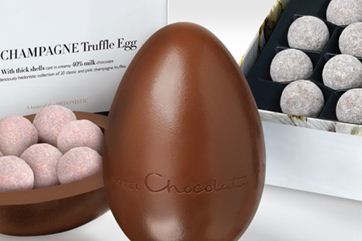 Oh wow… I have always had a soft spot for Hotel Chocolat but this year they have done some SEXY things with their eggs and their sea salt caramel. Why I am addicted to it, I don't know. Maybe there is crack in the sea salt caramel, or the chocolate, or both… but whatever it is, I swear I am absolutely addicted.
This particular egg is one of their extra thick eggs.  At 490g for £38, it certainly offers up a lot of chocolate for the price. I dipped right in to mine and found the packaging really well thought out.  The egg has each half individually wrapped so you can unwrap just one side and break into the thick shell. The shell is un-patterned with only the Hotel Chocolat name adorning it and it is their delicious milk chocolate.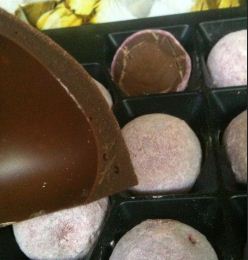 Beneath the egg is the box of 2 layers of champagne truffles – one white, one pink. The box has 2 ribbons, one on each side, which help the recipient lift the box out of the packaging. The packaging is beautiful in its styling and very fashionable and the thought behind each element is perfect. With the 20 champagne truffles safely extracted the munching can begin.
I have to admit that I love opening an egg and finding chocolates inside the egg. I also appreciate opening an Easter egg box and getting more chocolates than could possible fit within an egg just under the egg.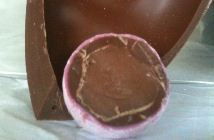 I really love Hotel Chocolat eggs. I really enjoy their dark chocolate and their milk (but I like the milk better) and I just love their caramel eggs but these champagne truffles are absolutely going to tide me over until I can get some more 😉