April 3, 2012
Rococo Chocolates Hand Painted Easter Egg No3. with Donna Wilson Chick Design Review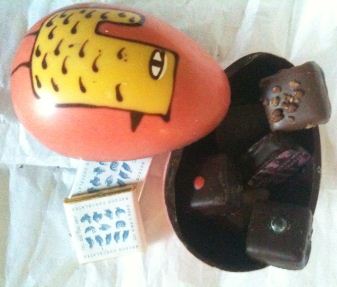 OMG how cute is this?!? Now, this isn't quite as visually stunning as the heart which I had such trouble breaking but it is still absolutely cute as a button and there are a whole series of images! This Donna Wilson Easter egg design has been hand-painted on white chocolate over a layer of dark chocolate which means you get a bit of sweet and a bit of dark in each bite. For a kid this is delightful egg with good, high quality chocolate, getting them into the habit of eating good quality chocolate at a young age. Check out the Russian doll eggs too as the fox is cute as a button!
For an adult, the chick egg is filled with 6 handmade ganaches and 2 solid chocolate squares and packed in a beautiful Rococo limited edition box which weighs 160g. The chocolate egg is absolutely delightful and yummy. It seems a shame to break it but I broke into it. I love the way the chocolate layers break unevenly with each layer showing itself as unique.
The chocolates inside are each different, and I believe that each egg many have a different selection. In fact, if you buy it at the shop in an unsealed box you might be able to pick your 6 chocolates – you never know until you try!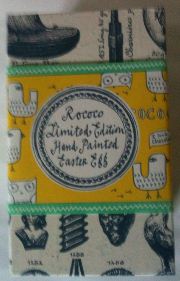 I love the way this is coloured, wrapped in tissue and boxed in a small box with very little excess packaging. It arrived in the post safely and was unbroken and I love that this was achieved with not much packaging. I think the six chocolates are just perfect and the whole package is absolutely perfect. The chocolate is a really good quality and not cheap and sugar-filled. The ganache chocolates are really good quality and deliciously yummy – a sweet treat which isn't too sweet.
All in all, this is a really excellent Easter Egg which is a little bit unique, a little bit artistic and a lot of fun. If you'd like to get your very own, why not visit a Rococo shop and buy one – or a few!