August 5, 2015
Haagen Dazs Brings #RealorNothing Master Ice Cream Academy to Bloomsbury Sq Today Only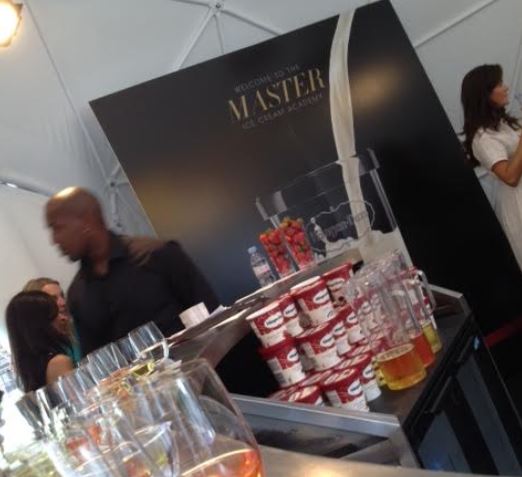 If you've ever wondered what makes Haagen Dazs one of the best ice creams you need to go to Bloomsbury Sq Gardens today and spend 15min in a total sensory experience as part of the Master Ice Cream Academy.
This summer Häagen-Dazs is celebrating the joy of premium ice cream with the launch of The Master Ice Cream Academy. The academy will bring to life the qualities of premium ice cream, encouraging consumers to explore their senses: aroma, sound, colour and texture, to discover how much they influence their indulgent moments
To host the academy, Haagen-Dazs have brought together a panel of expert ambassadors to create 'The Masters of Real'.  Acclaimed Head Chef at Duck & Waffle, Dan Doherty is joined by leading lifestyle blogger Rosie The Londoner and sensory expert Professor Barry Smith.
The academy is founded on the principle that ice cream should be made with high quality, carefully selected ingredients. That's why Haagen-Dazs will always start with a base of four ingredients – real cream, real milk, sugar and eggs – no vegetable fat, no preservatives, and minimal air. The Masters of Real ambassadors all share Haagen-Dazs' belief that Nothing is Better than Real.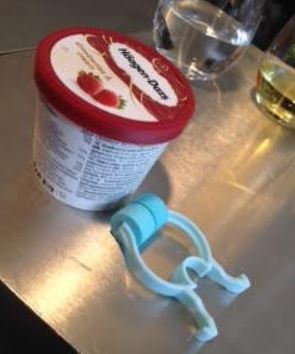 You'll learn how food tastes different with different sounds, can taste different when you touch different things, how the way things look affects your taste and how things smell affects taste. Not only that but you'll get to try some amazing Haagen Dazs ice cream.
We learned all of this during our special session with Prof Barry Smith from the Centre for the Study of the Senses who is a sensory expert. He knows his flavours and chemical compositions and how to make peach from strawberry 😀 He says: "To truly engage all our senses, we need to start with quality ingredients which give a fulfilling taste experience – this is key to our enjoyment when eating. What's key to the joy of Häagen-Dazs is the combination of real base ingredients and indulgent inclusions, all leading to an excellent ice-cream eating experience."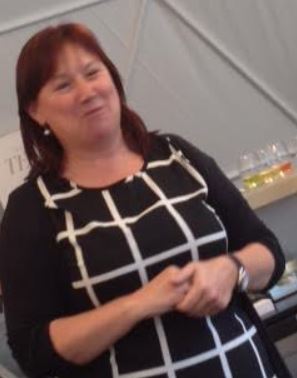 We also learned that Haagen Dazs only uses real flavours – no chemicals or synthetics and that they only add 20% air whereas many ice creams add 100% air. ONE HUNDRED PERCENT AIR ADDED! That's terrible but also why Haagen Dazs was running their #RealorNothing campaign. Alison Gray has everyone's dream job developing and testing flavours for Haagen-Dazs (something to aspire to – being her intern/apprentice).
She said: "Our ice cream uses only the finest ingredients and at Häagen-Dazs we believe the texture of ice cream is incredibly important to the experience of enjoying it, hence our carefully crafted Vanilla recipe which hasn't changed since we first began making it in 1961."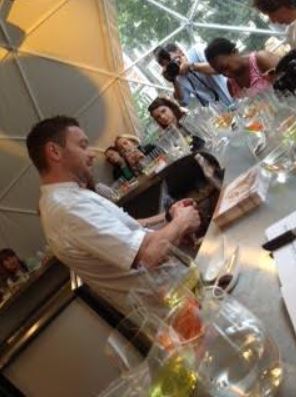 We then saw a lovely demo by Dan Doherty from Duck & Waffle who created a delightful summer treat with champagne, strawberries, peaches and the new Haagen Dazs Strawberries and Cream ice cream.
"As a chef I truly believe that carefully selected ingredients are the key to excellent quality food and it's exactly the same with ice cream. Ice cream is one of life's simplest pleasures when made with the right ingredients – which is why I want to celebrate it!"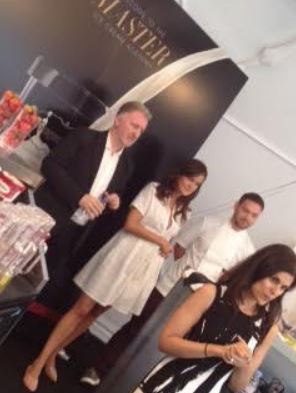 So head on down to Bloomsbury Gardens and enter the igloo for a sensory experience between 11am and 5:30pm. TODAY ONLY!