August 7, 2015
Get Ready for Afternoon Tea Week 2015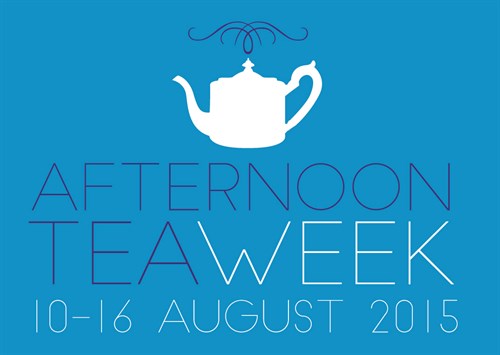 Afternoon Tea Week celebrates the great heritage of afternoon tea in the UK with a week of activities, themed menus and offers in hotels, restaurants and tearooms across the country from 10th-16th August.
You know where I'm going to be? The St Ermin's Hotel because for Afternoon Tea Week they will have UNLIMITED HOUSE CHAMPAGNE with their Afternoon Tea but for Afternoon Tea Week only. Seriously why go anywhere else? Well, actually, stay away so I can drink ALL THE CHAMPAGNE 😉
Afternoon Tea Week offers tourists, locals and afternoon tea fanatics alike the chance to step inside and experience some of the country's most exquisite afternoon tea venues. From five-star hotels in London to castles and stately homes, luxury department stores to double decker buses, there's something for every region, at every budget.
But there is so much – what should you do? Well, I picked a couple of things that didn't involve unlimited champagne 😉
30% Off Brut Champagne Afternoon Tea at The Wellesley
Enjoy 30% Off Brut Champagne Afternoon Tea at The Wellesley for just £35 per person, usually £50. Valid until 31st  August 2015. Exclusive to AfternoonTea.co.uk.
The Wellesley Hotel in Knightsbridge offers indulgence and exclusivity, a unique atmosphere and is truly unforgettable.
A celebrated experience in the Jazz Lounge, you are invited to discover and delight in The Wellesley Afternoon Tea. London's newest address defines a new level of luxury. The Afternoon Tea service blends an innovative menu with a formal high tea style to provide guests the perfect balance of seamless service, unique deliciousness and elegance.
The tea menu has been selected by our resident Tea Connoisseur Leonardo Mattera who has chosen teas from the finest estates in the world, and our Pastry Chef Cristiano Paolini who has infused a classic Afternoon tea experience with contemporary flair.
Enjoy a free tea tasting workshop on-board the Countess of York
National Railway Museum, York – Tuesday 11th & Thursday 13th August at 11.00 and 15.00.
National Railway MuseumTo celebrate Afternoon Tea Week, the Countess of York, the National Railway Museum's beautifully restored 1956 Pullman-style carriage, will be hosting free tea tasting workshops to highlight the vast array of different types of tea available as part of its afternoon tea packages.
Guests will be able to enjoy a selection of Taylors of Harrogate Fine Leaf Teas including Tea Room blend, Lady Grey, Imperial Gunpowder Green Tea, Afternoon Darjeeling and China Rose petal on Tuesday 11th August and Thursday 13th August at 11.00 and 15.00.
The Countess of York will also be offering a special Yorkshire-themed afternoon tea throughout the week to highlight its locally sourced ingredients at their best. A gluten-free menu will also be available.
In addition to this, the team will have a stand in York city centre on Monday 10th August and will be armed with some delicious cake samples to tempt visitors to celebrate Afternoon Tea Week on the Countess of York.
Traditional, locally-sourced English Afternoon Tea is served on board the Countess of York at 12noon, 2pm and 4pm daily. The National Railway Museum is located only a few minutes' walk from York station.
Afternoon Tea Week offer at Priory House Tea Rooms, Dunstable, Bedfordshire
33 High Street South, Dunstable, Beds, LU6 3RZ Tel: 01582 891420 E-mail: prioryhouse@dunstable.gov.uk
To celebrate Afternoon Tea Week, the award winning tea rooms Priory House Tea Rooms in Dunstable will be running a special offer for everyone who takes afternoon tea from 10 to 16 August. Every adult taking Afternoon Tea during this time will receive 25% off their next visit to Priory House Tea Rooms (minimum spend £20).
During summer the tea rooms provide an outdoor eating area, on the terrace, at the back of the house – perfect for an Afternoon Tea Week alfresco Afternoon Tea.
See more at a http://www.dunstable.gov.uk/priory_house_tea_rooms.htm
Exclusive Scents of Summer Afternoon Tea Experience at InterContinental London Park Lane
Exclusive Afternoon Tea Week Event – Thursday August 13th 2015
In celebration of Afternoon Tea Week, InterContinental London Park Lane is offering guests the opportunity to enjoy the limited edition Scents of Summer Afternoon Tea in the company of Executive Chef Ashley Wells and Bespoke Perfumer Nicola Pozzani of Floris London. Discover how perfumery expertise and culinary talent combined to create a sensory journey that celebrates the beauty of British summertime.
The immersive Afternoon Tea uses evocative notes from Floris fragrances; such as freshly cut grass, jasmine, bergamot, citrus, and rose, skilfully crafted into the sandwiches, scones and cakes, including bite-sized Jasmine tea cakes garnished with edible flowers, bergamot and blackcurrant flower macaroons, Peach Melba mousse, and a grapefruit and almond tart with violet cream.
The exclusive Scents of Summer Afternoon Tea Week Experience will take place from 3:00pm to 5:00pm on Thursday August 13th 2015. Priced at just £35 per person, the experience includes a Champagne cocktail served with Afternoon Tea at The Wellington Lounge.
Bookings are essential and can be made by phone to 020 7409 3131 or email your contact details to events@afternoonteaweek.com. Please note that full payment must be made in advance to secure your place.
Visit afternoonteaweek.com for full details and online booking for events.