May 14, 2012
Great British Tours London Chocolate Walk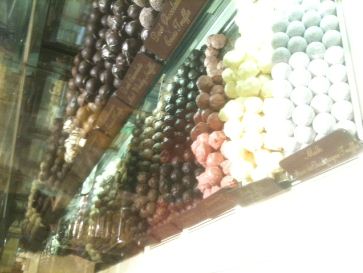 I had the good fortune as a London chocolate insider to be invited along to review the London Chocolate Walk Great British Tours. This is one of many experiences you can choose to enjoy when booking a visit to London through Expedia (or just go to Expedia and book it once you know you'll be in London).  It was great and a good introduction plus in this article you'll get some of my insider tips that they didn't get to on the tour!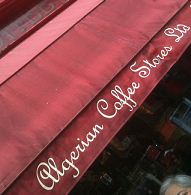 You start the tour at the Algerian Coffee Shop. One of the oldest establishments of its time, the Algerian Coffee shop was one of those places established when politics and stock market trading happened in the coffee rooms.  While we didn't get to go inside, by starting here you get the chance to visit it on your own time and can come back again and again.
INSIDER TIP: About 2 blocks away, a mere 3 minute walk, is Paul A Young's flagship store in Soho. This is one of London's premier chocolate shops and the only one you'll be near on this tour so grab the chance to visit it before the tour starts at 3pm.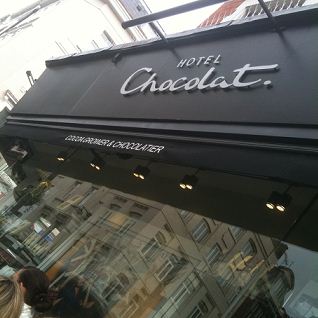 A short hop, skip and jump across the street is Hotel Chocolat where we had some milk chocolate and caramel buttons (too sweet for me). We also had a talk about Hotel Chocolat, how they now have their own plantation and how they are opening in Copenhagen and hope to have a full restaurant here in London soon.
The tour then walks into the Piccadilly Circus area for a visit to Freggo. This was originally the dessert kitchen of Gaucho but was so popular they spun it off on its own. We get to sample any of the ice creams on the menu. Our guide recommends 2 different ones but I've been here before so my INSIDER TIP is to go for a taster of the malbec and berries – then get yourself a serving of it because you'll be hooked!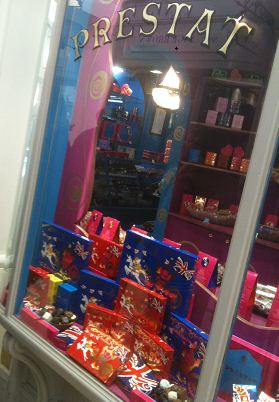 We walk on from here to Prestat where there are no samples sadly and a tiny shop with brightly colourful boxes of a range of chocolates.  The chocolates are interesting and as I've reviewed some of them before, I can recommend the Earl Grey tea milk chocolate disks as a proper British treat.
Our next stop (and bathroom break) on the tour is Fortnum & Masons and their chocolate counter. The last time I shopped here the chocolate buyer was a very partcular and her ideas of proper chocolate restricted the selection so much that it was all a bit same-y. I was glad to see that not only did they have visiting chocolatiers featured on the counters, they had Duffy's bars on the shelves, Gorvett & Stone chocolates as well as others. Biggest disappointment of the day was the lack of cobnut nougat. I had been looking forward to that for ages. That and the badly scuffed chocolates making the counter look decidedly downmarket. However don't let that put you off!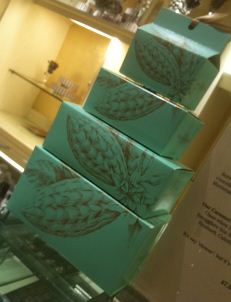 INSIDER TIP: Across the street and completely ignored by the tour is the Maison du Chocolat shop. Since you are literally across the street it is surprising it doesn't even get a mention on the tour. For really nice French ganache and praline in stylish boxes, this is a great find plus they are a patissier so an afternoon snack is easily in reach.
From here we pass Lauduree and head off to Charbonnel et Walker where they assert that madame Charbonnel was the lover of a king and that's why she left France for England – not because she wanted to get rich by introducing French chocolate to the English palette. Here we get to sample the famous rose & violet creames (one of each) and we scored an extra sample of the milk chocolate coated brazil nut which was absolutely delicious. This is a great plae to grab a small and portable chocolate box with a nice shelf life meaning that it will make it back without spoiling.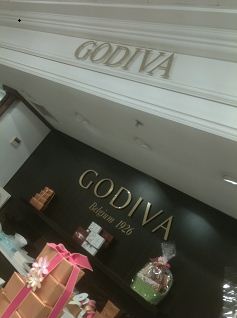 Finally from here we walk up to Selfridges to visit the Godiva shop inside the chocolate area. We get to try their (rather bitter) dark chocolate and shop in the Selfridges candy store. I have to say I'm slightly surprised that Godiva chose dark chocolate as these are not chocolate experts so the milk or salted caramel might be a better choice.
INSIDER TIP: The Godiva counter is right next to the Melt counter. Melt is one of the finest chocolatiers in town and if they have their passion fruit caramels you should buy yourself at least one to try.
INSIDER TIP: Check the wall between Godiva and Artisan du Chocolat – if Pierre Marcolini chocolate bars are still there, grab yourself the Hacienda Chuao is you like a red fruit and slightly acidic flavour profile or the Cuban chocolate for a honeyed leather, honeyed tobacco flavour. Both are outstanding single origin bars and well worth the price.
INSIDER TIP: Artisan du Chocolat often have samples of their chocolates on offer if you'd like to try their ganache or salted caramels!
We end the tour here but I do not. Knowing London as I do, after buying some Artisan du Chocolat sea salted caramels, a bar of Pierre Marcolini Hacienda Chuao and 4 Pierre Herme macarons in Selfridges, I head to Jeff de Bruges to see what new delights the shop staff have. It is spring/summer as I write this and so they have their ice cream cart outside ready to serve chilled treats. I head inside and see what's new for the season and buy some ganaches. They have bouquets of chocolates and sugared almonds out as well as lots of exciting chocolates. The prices are reasonable so it is a great place to end the day.
If you are visiting London and would like someone to show you everything so you can go back afterwards, this is a fine tour to go on. 2 hours is a long time to be mobile (and for me it was 4) but for new people, it does take in many brilliantly British choccy places as well as the differently diverse shops that make up the London chocolate scene. I would love to see ones that also hit places  Rococo, William Curley or Demarquetteas well 🙂