September 22, 2010
Gower Cottage Chocolate Brownies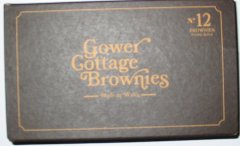 I recently received a box of the lovely Gower Cottage chocolate brownies.  I received it in a bid to make me stop.  The reason I had been begged to stop is that I entered the Gower free brownies competition.  Repeatedly. And I inflected my singing on the office.  And my husband.  And the neighbour's dog (poor thing).  The content was around what song Gavin Henson should dance to on Strictly.  My entry is at the end of the post.
The brownies were sent to the office and they arrived in a discreet brown box.  I got both a phone call *and* an email from the reception to let me know they had arrived.  Clearly someone was hoping they'd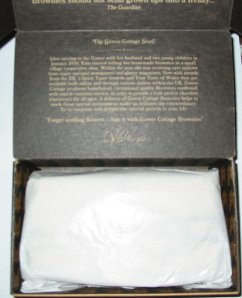 get opened sooner rather than later.
The brownies were very definitely cooked by hand with the rounded edge of the pan clearly visible on one brownie.  This was going to be a treat.  The top was lightly dusted with icing sugar and they smelt delightful.
Brownies come in all shaped and sizes from Gower to Lucky's, from Paul A Young to mom's.  These brownies were lovely middle of the road brownies.  There was a distinct chocolate flavour but they were light.  They were moist but still well cooked.  They were not too dry as some brownies can get and while they weren't as melt-in-the-mouth as Paul A Young, they were still moist enough to just about melt in the mouth.  The Gower Cottage brownies were only £15.99 for 12 instead of £3.50 for one 🙂
I did enjoy them and I would likely send Gower brownies as an alternative gift at the holidays. I have to admit – sending gifts at the holidays has become an addiction and while I used to love shopping, now I love the internet 😮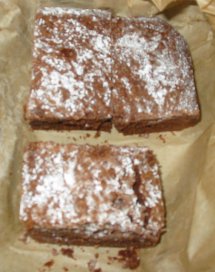 Here is my entry:
His name was Gavin
He was a kicker
With lots of gel up in his hair and his shorts cut down to there
He would play full back
And sometimes fly-half
And while he tried to be a star, charlotte sang upon the bar
Across a crowded pitch
They thought they must get hitched
They were young and they had each other
But still the media bitched
At the Ospreys
Ospreys RFC
The hottest spot south of Llangunnor