March 27, 2012
Golden Caramel Eggs & Peanut Feuilletine Easter Eggs From Damian Allsop Reviewed
Golden Caramel Eggs – I bought these eggs at the Oxford chocolate festival. So delicious! These little half eggs are a decadent, oozy muscavado caramel ganache encased in Damian Allsop's house 70% chocolate. They have thin shells and are perfect to snack on.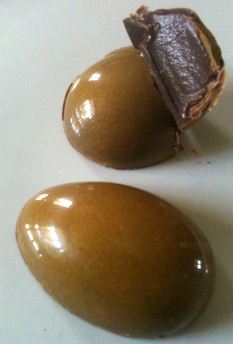 As you can see, the caramel ganache is quite dark and thick and does not run once I have cut it in half. In fact, it would almost be a solid but as you bite into it, you can tell it is meltingly delicious. The clocolate doesn't hinder the experience of the caramel and it is quite dark and distinct, making it more caramel than chocolate. Delicious!  These are a real treat and much nicer than other caramel eggs you can buy at the supermarket and better for you.  Why not treat yourself and your body to something a bit better this Easter?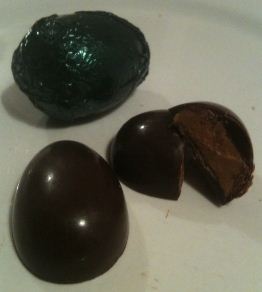 Peanut Praline & Feuilletine Eggs – I was given these at the same chocolate festival for me to review and they are extremely different.  The peanut praline is something quite different – it isn't peanut butter but is still a smooth nut paste. It has had feuillitine added to it to give it something crunchy and yet thin and non-intrusive.
Both of these small eggs are fun and certainly better for you with high quality chocolate, made from some of the best chocolate around for Easter. Whether you like nuts or caramel, these are both delicious.
You can pick these up from the Chocolate Festival in London