June 11, 2014
Dufflet Nougato & Dufflet Clusterific Reviewed
Nougat, Orange & Honey Dark Chocolate Bar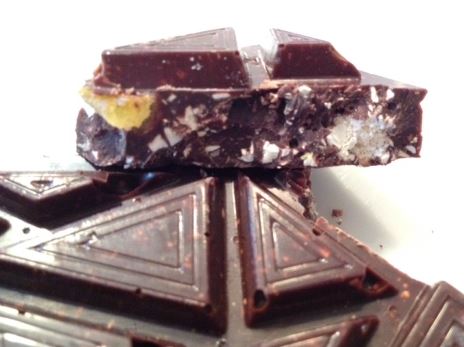 Not at all related to Toblerone, this bar is a large flat block with random raised triangles. It reminded me a bit of chocolate makers like Marou who have eschewed conformity for random shapes.
I don't like orange but even I thought it might have rocked a bit more orange peel in the piece I had however that means it is absolutely perfect for a large number of people. The orange pieces are in there which you can see clearly in the photograph. There is a *lot* of nougat in each triangle and the dark chocolate is nice.
The chocolate isn't the highest quality but still pleasant and the nougat is delicious. With the real orange pieces in the chocolate, lots of nougat and hint of honey, it's delightful and fun to break apart.
Dufflet Clusterific Belgian Milk Chocolate with Cranberries Pita Chips, Sponge Toffee and Rice Crisps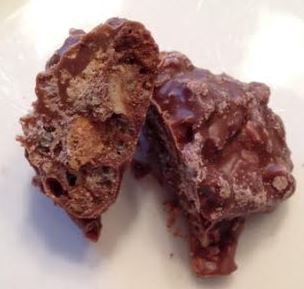 Packed full of goodness (I mean, it has cranberries in it which are a superfood so that makes these healthy, right?) these little clusters are two bites to yumminess.
Crunchy but not too thick to actually bite, they have a crunchiness that hides the cranberries well. Still, healthy, right? I mean, cranberries makes everything healthy!
These are small, two or three bite clusters of chocolate with lots of goodness inside – fruits, crisps and yummy sweetness. YUM!
These are available at Dufflet shops as well as online!