November 28, 2014
Divine New Christmas 2014 Chocolate Bars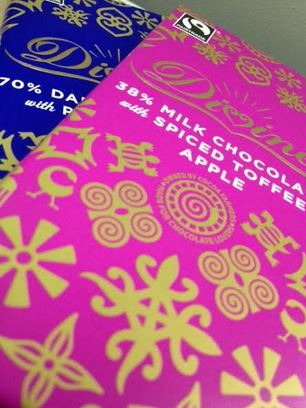 I love Christmas and the flavours that come with it. I also love Divine and the highly ethical approach they take with cocoa growers like paying promptly, paying at least Fairtrade costs but also being 45% owned by the farmers part of the profits go back into the cocoa growing communities.
If you want to be ethical in your chocolate purchases this Christmas and go to the supermarket only, you should choose Divine.
For Christmas 2014, Divine have released two new delicious bars. I haven't seen them in my local Sainsbury's yet but I'm hopeful that they will appear soon as the spiced toffee apple was DELISH!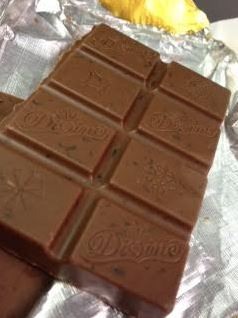 Spiced toffee apple (milk) – there is a heavy scent of apples on opening the bar with the spice coming through on eating it. The actual apple of this spiced toffee apple is apple granules but paired with the toffee it becomes quite satisfyingly chewy. Cinnamon combines well with apple and butterscotch to create an absolutely sweetly delicious bar, sitting well within the milk chocolate. Really fab flavour & something to get excited about this holiday season!
Pear & ginger (dark) – not as strong on the nose as the spiced toffee apple was. The pear comes through as you bite in to the bar – which takes skill on something as subtle as pear. The pear becomes delightful chewy as you eat a piece, with ginger definitely taking a back seat with a mild flavour and very little heat.
Overall two delightful bars for the season you should stockpile because I'm guessing once they are gone, they will be gone forever. I'd be buying boxes of the spiced toffee apple myself 😉