May 16, 2012
Demarquette Jubilee Chocolate Marbles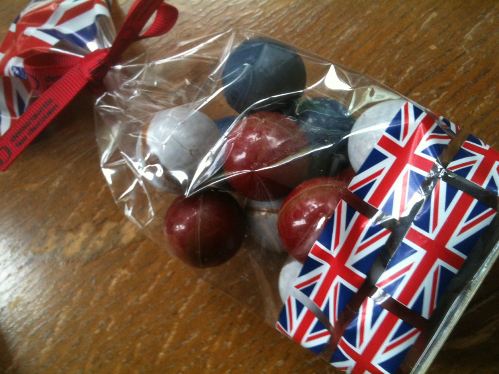 I happened to pop by Demarquette one day and while I was there I grabbed myself a bag of these caramels. When I bought them I had no idea what I was getting but I love Demarquette chocolates and really enjoy their caramel. So I thought, what the heck and bought myself a bag.
The Union Jack bags are filled with 15 marbles in total – 5 Milk Chocolate and Strawberry caramel, 5 Milk Chocolate with Vanilla and 5 Dark Chocolate Sea Salt Caramel. As you can see, I used my fingers to break into each one individually to show the caramel.

The white chocolate ball with its milk chocolate and vanilla caramel is delightful. I really enjoyed it and finished off the whole ball before moving on to the next one., The vanilla wasn't too strong and balanced out off against the milk chocolate.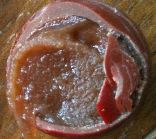 The red chocolate ball was a very interesting with the strawberry caramel almost like a puree n the ball. The caramel was more textured and quite different with the flavour of strawberries coming through and I think I even got a seed!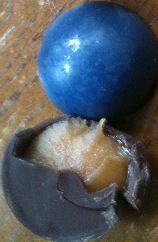 The blue chocolate ball is my favourite. The sea salt caramel is delicious and set off against the dark chocolate makes this just delightful. This is the yummiest in the bag and if you do get some to celebrate the Jubilee do yourself the favour of picking out all the blue ones and hiding them for your personal use.
Demarquette Jubilee caramels are only available until the jubilee so get your mitts on some quickly!