May 9, 2015
Curly Wurly Chocolate Caramel Brownies Recipe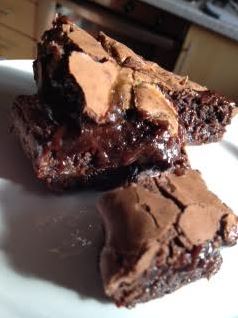 I am really not comfortable making my own caramel and I have some epic failures of brownies I added caramel to so in an attempt to make caramel brownies I decided to give Curly Wurlys a try. This is a standard brownie recipe but you add 5 whole Curly Wurlys to the recipe to give it a bit of something extra 😉 This will make a very wet brownie mix so I suggest placing the Curly Wurlys in the freezer for at least an hour before adding and then baking for a little longer than usual. If you want a firmer brownie, place the Curly Wurlys on the top only 🙂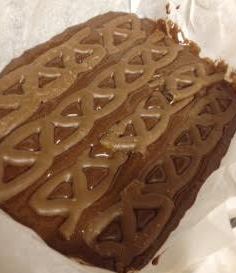 Ingredients
200g unsalted utter
350g dark chocolate
3 Eggs
250g Billington's light muscovado sugar
50g self-raising white flour
1 tsp Nielsen Massey Vanilla
Pinch of salt
5 frozen Curly Wurleys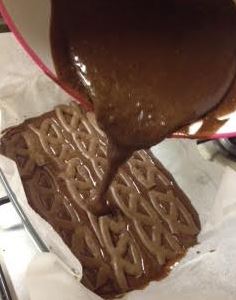 Instructions
Preheat the oven to 190°C or fan 170°C because you'll need to make sure it goes in a hot oven and starts to bake right away with those frozen Curly Wurlys in it.
Line a 20cm square tin with baking parchment. I put butter on the tin first so the paper sticks but you don't have to.
Melt the chocolate and butter together in a heatproof bowl over a pan of simmering water. I usually put the butter in first and then as it melts I add the chocolate to that and mix occasionally. Remove from the bowl from the simmering water and allow to cool a bit
Beat the eggs lightly, adding the muscovado sugar as you go. Once it is all added, beat the mix until thick. You want the sugar well combined and I find the light does work well and adds a lovely flavour.
Check the butter and chocolate mix is cool enough to touch. If it is, gently fold the chocolate into the egg and sugar mixture, mixing constantly. If it isn't cool you'll cook the eggs.
Sieve in the flour into the mix and stir until the mixture is smooth.
Now, pour around half the mix into the prepared tin. Take the Curly Wurlys out of the fridge and lay four of them in the middle. If you want a firmer brownie, skip this step.
Pour the rest of the mix into the tin and finish with the fifth Curly Wurly.
Bake for 30-35 minutes, until you see a paper-like crust on top. If you added Curly Wurlys you may wish to give it 40min to be safe. A skewer will come out with mix on it still but after 40min it should be baked enough to then chill and cut of you have Curly Wurlys in the middle.
Remove carefully from the oven. Leave to cool, then cut into squares if you left the Curly Wurlys out, cool then refrigerate before cutting if you added them in.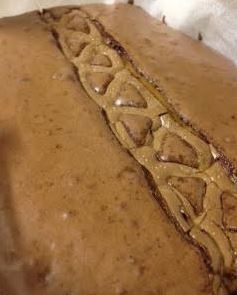 Whether you add the Curly Wurlys or not – ENJOY!