August 15, 2017
Cornish Pasty Sushi Recipe Wins UK Sushi Competition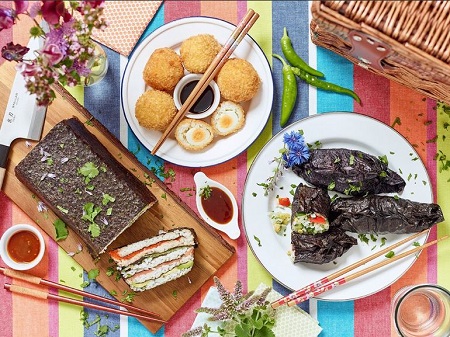 Japanese food company, Yutaka, has named a Sushi Cornish Pasty as the winner of its annual British sushi competition.
Each year, to celebrate International Sushi Day, Yutaka holds a competition to find a new recipe that combines great British or European favourites with traditional Japanese sushi. Previous winners have included Fish & Chip Sushi, Cream Tea Sushi, Haggis Sushi and Roast Beef and Yorkshire Pudding Sushi.
Created by former Cornish resident, Chandra Gilbert, she explains how she devised her sushi pasty concept:
"As a sushi fan, I often take any I've made that's left-over to work, but, inevitably, the filling starts to escape. By making sushi into pasties, using nori sheets instead of pastry and creating a sushi rice salad, it provides the perfect way to take your sushi to work or on a picnic".
Sushi Cornish Pasty Recipe
250g Sushi Rice
3 tbs Rice Vinegar
1 tsp salt
2 tbs sugar
8 Nori sheets
3 spring onions, chopped
1/3 cucumber, diced
2 slices smoked salmon, diced
1 red pepper diced
1 avocado, diced and dipped in lime or lemon juice to avoid discolouring
Large bunch coriander, finely chopped
Method
Put the rice into a bowl and wash with cold water. Repeat 4 times and then drain with sieve. Put rice into a saucepan and add 330ml water. Bring to boil turn heat down and simmer for 30 mins.
Mix the rice vinegar, sugar and salt together and fold into the sushi rice when cooled.
Gently mix in spring onions, cucumber, smoked salmon, red pepper, avocado and chopped coriander.
Take a Nori sheet – trim the corners to make a round shape.
Put a couple of large spoonful of the mix in the middle of the Nori sheet to ensure a full pastie and then crimp up the sides with slightly damp fingers. Continue using up the sheets and the filling.