August 17, 2017
South West's First Gin Delivery Service Ventures With Spirit This Summer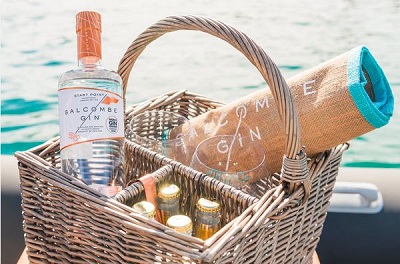 Too posh to take your luxury yachtt to the club and disembark for your much needed G&T supplies because the race is all? Well, Salcombe has you covered. Lie back in the sunshine and enjoy the race with ice-cold 'Salcombe & Tonics' with the South West's first Gin delivery service.  This unique gin delivery service is exclusively available to yachts taking part in the Dartmouth Royal Regatta as well as other visiting yachts in Salcombe during this popular time of the year. Oh gosh how absolutely perfect.
No, this isn't a piss-take – Salcombe Distilling Co. has partnered with Dartmouth based Ribeye who have provided a custom Ribeye powerboat for delivering their gin hamper, ensuring it arrives rapidly and in perfect condition to clients for the ultimate sundowner.
Each wicker hamper will be packed with everything required to make the perfect Salcombe & Tonic; 70cl bottle of Salcombe Gin 'Start Point', premium tonic water, copa style gin glasses, copper gin jigger measure, ice, tongs and of course, a ruby red grapefruit for the signature garnish. (Priced from £100 per delivery and hamper).
Recently awarded a Double Gold at the San Francisco World Spirit Competition 2017, Salcombe Distilling Co produces an exceptional hand crafted gin and strives for perfection in every step of the process.
Refreshing and delicious Salcombe Gin is hand distilled in South Devon using only the finest hand sourced ingredients. This super smooth gin is produced using thirteen carefully selected botanicals distilled in a beautiful copper pot still with English wheat spirit and blended with pure Dartmoor water to produce a gin of extraordinary quality and elegance with no compromise. For those of you who have ever visited Dartmoor, yes… from there.
Gin delivery orders can be placed by calling the Salcombe Gin Distillery on 01548 843907 or via VHF channel 71. Yes, really. This isn't a joke they really will deliver all the G&T fixings to your yacht if you contact them on VHF 71.
For more information visit salcombegin.com/yachtdeliveryservice
DATES FOR THE DIARY
Gin and Jazz evening at Salcombe Yacht Club: 17th August
Dartmouth Royal Regatta: 24- 26th August