June 28, 2013
Corkers – Really Great British Crisps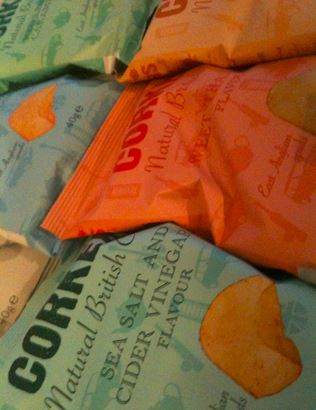 I love popcorn which is why I go to such great lengths to get the stuff I love. Crisps have always played second fiddle to popcorn for me, despite my allergies, until now. Buying locally made products is an important thing to me and these crisps are grown and made locally in the fens in Cambridgeshire.
According to the website, they make the crisps in an area of natural fenland using Naturaldo potatoes. They truly have a nutty flavour and they are interesting.  Corkers are kind of like a thin Kettle Crisp. They are thin and delicious. The flavour of the potato actually comes through. For me, crisps (potato chips) were always just a banal, tasteless transport mechanism for the flavour. Corkers are all about flavour. The flavour of the British-grown potatoes comes through as does the flavours they add.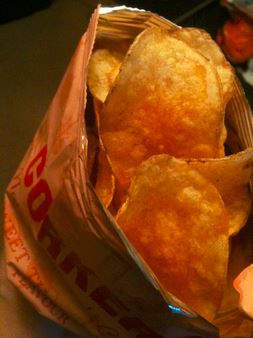 There are six flavours I am aware of from the Corkers range. I didn't like them all, of course, because I am not the god of what tastes good 😉 No one is 😀 I have to admit I do have a few favourites.  Sea Salt and Black Pepper was probably my favourite flavour. The thin potato crisps make these easier to eat and the flavour is just perfect. I get a teeny bit of heat but mainly the pepper and it was delicious.  The Sweet Thai Chilli flavour is also delicious. I think that the reason I enjoyed this flavour so much was that the flavour of the potato was still present under the flavour. Not too spicy and really not sweet (why the heck is it *sweet* Thai chilli) there is a clear flavour that nicely coats your fingers after eating a bag 😉
Husband tried the Pork Sausage and English mustard bag and then tried the Red Leicester and Caramelised Onion flavour as I'm not a fan of either flavour. He says he would have liked the flavour a bit stronger but this is the man who adds extra of everything to try and make it taste stronger 🙂 He also didn't really explain how stronger or anything 😀 So I'm sure the flavour is probably not bad 😉 I love him to bits but a food reviewed he ain't 😀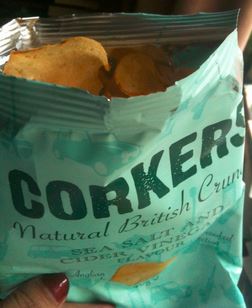 The two flavours I probably was not as enthusiastic about were the sea salt and the sea salt and cider vinegar. The bag I was given of the sea salt was, perhaps, slightly saltier than I expected but I had just had a bag of the Sweet Thai Chilli right before so that could be part of the reason why. However I do sometimes like something with a bit of extra salt and the flavour of the potato does come through which I like but just not as much as the one with pepper 😉 The Cider Vinegar one I guess I wanted to be a bit more vinegary but that isn't to everyone's palate. I'm a bit of an extreme acidic vinegar girl which comes out in the chocolate I like as well.
All in all, I love these crisps and husband liked them. As a British product I doubly love them. I really think everyone should buy locally whenever possible and Corkers is a delicious way to do so. Dare I say they are 'corking' great crisps? 😉 Wanna buy some? Check CorkersCrisps.co.uk & order yours.