May 1, 2012
Cooking with Lindt Choolate – An Evening With Lindt Master Chocolatier & Jun Tanaka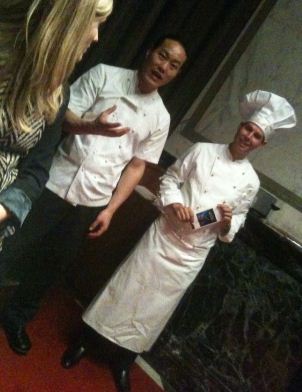 Lindt is working on making better quality chocolate available in a wide variety of flavours and also educating people about how versatile chocolate is. No longer do we have to suffer with poor quality chocolate but there are now a number of choices on the shelves to tempt us. This array of temptation also makes it difficult to choose. So it seemed to me that Lindt made the choice to define themselves as the foodie's chocolate of choice, offering an array of perfectly complimentary chocolates depending on what you had chosen to cook.
I had the opportunity to attend an evening dinner with Lindt but I was woefully late, which is the curse of someone who just wants to get that last bit of analysis done… just one more check… 😉 So when I arrived late, I was starving and had experienced a less than ideal day which means the starter got gobbled up with the most perfectly complimented white wide and nary a photo was taken. It also involved no chocolate so we'll gloss over the delicious cured salmon with pickled chilli and wasabi mayonnaise.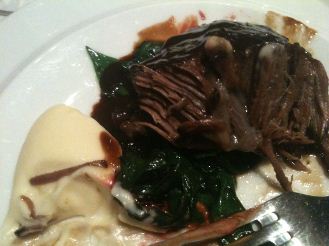 The braised chilli chocolate beef cheek with celeriac mask and glazed beetroot was delightful. Actually no… delightful is not the right word. I think I'm looking for something like ORGASMIC or something. This was the most incredible piece of beef I have had for awhile. Each flavour balanced with the others so whether your mouthful was just beef, beef and celeriac or beef, celeriac and beetroot, it was perfect. The wine was also perfectly chosen, enhancing the flavours and yet standing confidently alone (if slightly iron-heavy). Jun Tanaka here I think made me remember that there is still excellence in the kitchen and not just over-stuffed egos.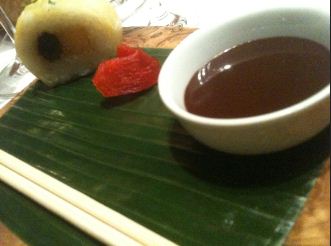 I am not a sushi fan and yet the wasabi chocolate maki roll was gobbled down in one. The maki roll was neutral to slightly sweet owing to the spiced pineapple and the wasabi chocolate perfectly complimented it. We had the wasabi chocolate as a dipping sauce which was an extremely different experience. The ice wine we had to compliment it was delicious but as an Ontarian I have to say, Trius is better 😉 The wasabi chocolate did taste extremely potently of wasabi. I think if you're a fan of the flavour and heat of wasabi, this will be the ideal chocolate. If you're just in it for the heat, opt for the chilli chocolate.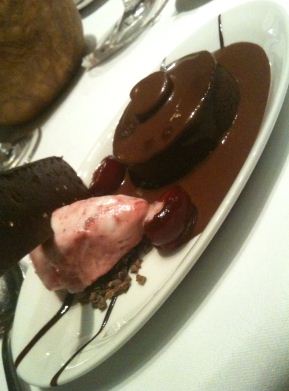 We finished off with a dark sea salt chocolate molleux with cherry and yogurt sorbet made with possibly the most expensive cherries ever. It was absolutely amazing with an interplay of warm chocolate and frozen yogurt. The wine was a sweet red and was excellent (though again, Ontario wines kick wicked butt and there was a Peller Estates one I had which would have kicked this ones butt), just the perfect complement to the dessert.
On departing we were given chocolate and recipe cards to make our own versions of the things we tried. I will absolutely be trying my hand at the beef and the dessert. Watch out Waitrose, I'm going to hit an isle other than desserts!